Linde Material Handling exhibited its L-Matic robotic pallet stacker at this week's IntraLogisteX show. The truck has a capacity of 1.2 tonnes and acceleration to 1.6 m/s maximum, with or without load.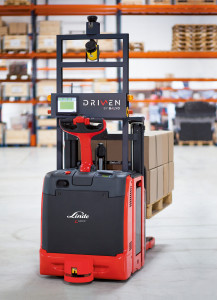 The truck is designed for low level pick & drop, as well as rapid pallet transfers that target warehouse applications.
At the event Linde Robotics, the robotics arm of the wider company, demonstrated the key features of the truck, including: the simple changeover from the autonomous to manual mode and the Robot Manager, an integrated planning system which processes and transmits data in real-time, controlling interaction with other networked machines and devices.
David Bowen, warehouse product manager, said: "This new technology will save customers time and money as the Linde-MATIC series is based on 'infrastructure-free' geo-guidance technology which means the Robot Manager instructs the truck to change aisles and manoeuvre around walls, pillars and other obstructions."
Gary Bartram, automation manager, said: "The Internet of Things, Industry 4.0 and Big Data are key areas of discussion throughout the industry and the process of material handling is evolving creating a cost effective and productive logistics model of the future.