Autonomous mobile robot (AMR) supplier Locus Robotics has revealed plans for a new service designed to ramp up the implementation of such robotics in e-commere, retail and healthcare-focused warehouses.
The Locus Rapid Assessment and Design Service (RAD) service is designed to speed up the planning and implementation process for evaluating and adding AMR automation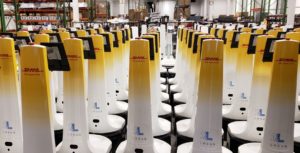 Locus said that the service was necessary to allow businesses to plan for volumes peaks in what it described as a 'post-pandemic economy'.
Chief executive Rick Faulk said: "The move to on-line commerce is happening faster than ever before. Now is the right time for third party fulfilment, retail, industrial, and healthcare companies to prepare for the volume surge by deploying new technology solutions to maximise their fulfilment efficiency and productivity.
"The Locus Robotics RAD Service is done while maintaining social distancing to quickly give customers and prospective partners insight into how our solution will improve warehouse productivity to meet growing fulfillment demand as we emerge from the current pandemic."

Locus Robotics (stand 802) will be at IntraLogisteX 2020, which will take place on 28 and 29 July at the Ricoh Arena, Coventry. The show moved to July in the light of measures to curb the coronavirus pandemic.