Warwickshire College Group has created a new logistics learning hub at the Rugby College campus, after the shortage of training provision for the industry was raised by Karen Shuter, who chairs the Coventry and Warwickshire Chamber of Commerce's Rugby branch.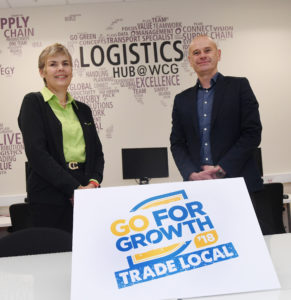 Business Studies students who began their courses in September now have logistics as part of their course as a pilot project and, in January, the first learners from small and medium-sized businesses in the sector will be enrolled onto industry-led level 2 & 3 Chartered Institute of Logistics and Transport qualifications.
The hub, which received a £39,100 Skills Challenge Grant, will also provide a series of work experience opportunities as well as a brand new Logistics Office Simulation Facility.
Karen Shuter, of Exact Logistics, said: "I am absolutely thrilled that this opportunity is now available to learners here in Rugby. When you consider how important the sector is to the town, the surrounding borough and the county, it was difficult to believe there was no provision."
Neil Coker, group vice principal, curriculum at WCG, said: "The logistics hub is another example of where we have worked in partnership to support skills needs in the area and link our student body with future job opportunities."