Going back to a post-Covid-19 economy isn't going to happen soon, so businesses are adapting to new trading conditions. However, the speed of change is shaking up the property market and demand for big sheds. Liza Helps investigates.
It has been a tumultuous year and what we envisioned only a short six months ago is nothing like our reality now. Back in January and February, the prospects looked promising after the stop/start 2019 plagued with political uncertainty, then the coronavirus struck, and the country was plunged in to lockdown – it looked a bit grim.
But the pandemic has turbo charged the supply chain industry – the question is: is this the new normal?
"Across the board, property consultants," says Paul Weston, Regional Head of Prologis UK, "are reporting record take-up."
Indeed, the latest research from CBRE notes that take-up of UK logistics space is 111% higher than this time last year. Third-quarter take up levels have surpassed the record-breaking take-up levels in the second quarter of this year to reach a total of 13.33 million sq ft.
The continuation of strong sector performance through the third quarter 2020 takes the total space acquired in the first three quarters of the year to 32.57 million sq ft. This compares to the last strongest full year performance when take-up reached 31.78 million sq ft in 2018.
Jonathan Compton, Senior Director, UK Industrial & Logistics at CBRE, says: "To put the numbers into context, the past six months take-up exceeds the annual total for eight of the past ten years. Concerns around Covid-19 and Brexit have not suppressed demand."
Cushman & Wakfield's head of UK Logistics and Industrial Richard Evans says: "Take up by the end of this year has the potential to exceed 40 million sq ft – it has been astonishing the way the market has performed."
According to its latest UK Logistics and Industrial Market Outlook report the first nine months of the year saw take up reached 39.7 million sq ft including short term deals, and that there was at the end of September 2020 some 11.5 million sq ft under offer which means that if only half the deals complete, 2020 will still comfortably set a new record for annual take-up.
But is this a one off? The consensus of opinion is far from it.
Andrew Pilsworth, Director of Finance at SEGRO, says: "The pandemic acted as a catalyst for the underlying strong demand that was there anyway. It has accelerated the structural changes driving occupational demand such as the shift from high street to online shopping."
Weston agrees: "Covid pushed that [change] five years in as many months – turbo charging it – and while [online shopping] may drop back the genie is out of the bottle and things are not going to be the same going forwards."
Robert Whatmuff, Director at Colliers, says of the shift: "I don't see it slowing down. If people get in the mindset that it works and it is easy – why go back?"
Consumers in the UK have fundamentally changed the way they shop and says Andrew Smith, Partner at Carter Jonas: "This structural change is the new normal and I cannot seeing it running out for another 12 months – this trend is turning into a permanent fixture."
Tasos Vezyridis, Senior Director of Research at CBRE, adds: "The sudden rise in e-commerce due to the pandemic will have a lasting effect and has concentrated five years growth of online sales within just six months. This has altered the logistics expansion plans of retailers and accelerated their needs, pushing them to take readily available space."
Economic Recovery?
E-commerce accounts for nearly 40% of take-up so far this year – an all-time high.
Unsurprisingly Amazon alone has taken some 12 million sq ft of space this year (directly or through 3PLs) accounting for approximately one third of total take-up.
Andrea Ferranti, Head of Industrial & Logistics Research, says: "Demand dynamics often differ depending upon the occupier type. Businesses with a strong online presence and/or in-demand products are often able to make long-term capital investments to scale up, as has been the case for Amazon this year."
In its latest acquisition, the internet giant has secured a 2.3 million sq ft pre-let at Pannatoni's scheme in Swindon in the South West.
The property, to be built on 68-acre site will consist of a ground floor footplate of 624,500 and three further mezzanines. It is thought the new warehouse represents some £400 million investment in Swindon and could bring up to 2,000 jobs.
The leader of the council, who is also in charge of economic recovery, said that the development was extremely important for the local economy in the light of the current pandemic situation.
Amazon has also taken IM Properties' 532,500 sq ft Hinckley 532 warehouse in Leicestershire, Panattoni's 500,000 sq ft mega shed in Nottingham as well as Goodman's 405,000 sq ft Bedford 405 building at its 45-acre Bedford Commercial Park in Bedfordshire.
The company has secured 2.5 million sq ft at Follingsby Max in the North East, alongside a further 2 million sq ft at Gateway 45 in Leeds. It has been confirmed that it has secured 2.3 million sq ft at Tritax and Bericote's Littlebrook scheme in Dartford.
Amazon is also thought to have acquired the use of former Random House warehouse owned by Prologis in Rugby. The 376,000 sq ft warehouse at Rugby Central Park next to junction 1 of the M6, has been let 3PL XPO Logistics and will be run as an Amazon fulfilment centre.
The company has also leased or acquired nearly 500,000 sq ft across seven sites in the UK for use as delivery stations. Its progress seems to go unabated. The company reported revenues in the UK up 26% to £13.7 billion this year.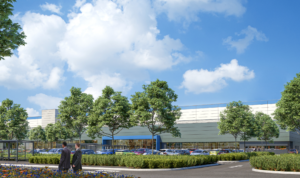 But it is not just Amazon snapping up large sites and big sheds. According to Colliers latest research a record number of deals completed in the 500,000 sq ft+ size band, with 17 distribution warehouses transacted so far this year.
This includes DHL pre-letting 694,608 at SEGRO's 6 million sq ft East Midlands Gateway scheme in Leicestershire and Pets At Home securing 670,000 sq ft at Stoford's 52-acre site at Redhill Business Park in Stafford.
DHL intends to service a contract for an international food manufacture from the site and requires a temperature-controlled storage area which requires an extremely tall building necessitating further planning approval.
Designed by pHp Architects, the building will consist of a 669,608 sq ft distribution warehouse, a 20,000 sq ft two-storey office and a 5,000 sq ft transport hub. The facility will have 474 car parking spaces and 121 HGV spaces. There will be 43 dock with nine double dock doors as well as eight level access doors. It will be built to BREEAM Very Good. It is hoped that construction would start in late 2020 with completion set for the first quarter of 2022.
Pets At Home – which saw revenues of £1.01 billion in the financial year to March, up 10.2% year-on-year – signed a conditional agreement for a 20-year lease for the proposed 670,000 sq ft development at Redhill Business Park, Stafford, which also includes an additional 100,000 sq ft of expansion land.
Construction could start on site in 2021 and will comprise a purpose-built warehouse unit, a three-storey office and two double-storey hub offices. It is anticipated that completion pre fit-out will be during 2022.
On the other side of the spectrum, more than 60 units sized between 100,000 and 200,000 sq ft were taken up. This compares to a total of 77 units acquired during the entire 2019.
The fact that there has been a lot of take-up due to increased e-commerce is not unexpected, what had not been anticipated was the speed at which it would be required.
Rule of Thumb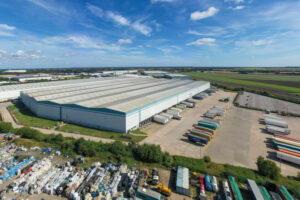 Analysis from Knight Frank shows that the growth of e-commerce could drive demand for 92 million sq ft of warehouse space across the UK by 2024.
The analysis considers how the growth of online retail sales, which currently account for 26.6% of retail sales and peaked at 33.4% in May during the lockdown, will impact the demand for warehouse space across the UK.
By examining five-year data for online sales, take-up of warehouse space and retailers' warehousing networks, Knight Frank forecasts that for every billion pounds of online retail sales, 1.36 million sq ft of warehouse space is required.
As a rule of thumb this is three times the amount of warehouse space required compared with high street retailing due to the fact that online warehousing has to factor in holding stock which would normally be in shops and having to deal with returns.
This model suggests that the spike in online sales in 2020 alone will create demand for an additional 30 million sq ft of space, rising to a total of 92 million sq ft by 2024 when it is forecast that online sales will hit a sustained level of 32% of UK retail sales.
This growth will be driven in part by the grocery sector, which has seen online sales more than double from £681 million in July 2019 to £1.44 billion in July 2020, and now comprise 10.8% of all consumers spending on food. Knight Frank expects this shift in consumer behaviour to remain after the Covid-19 pandemic and forecasts that growth of online grocery sales alone could create demand for 7.1 million sq ft of warehouse space to 2024.
Charles Binks, Department Head Logistics and Industrial at Knight Frank, says: "The rise of e-commerce has been one of the fundamental drivers of demand for warehouse space over the past five years, and our analysis shows this trend is only going to accelerate as consumer behaviour continues to shift in favour of online purchasing.

"The utilisation of technology in warehouses and any future need for social distancing will impact on space requirements, but is clear the projected rise in online sales is going to create a huge demand for warehousing over the next four years."
Inexorably linked e-commerce growth is the growth in the number of households across the UK. Last year the British Property Federation's 'What Warehousing Where?' report stated that, at a national level, 69 sq ft of additional warehouse space will be needed per home in order to fulfill deliveries generated by the growth in online retail, that was calculated with online retailing accounting for just 21.4% of all retail transactions in the UK. The most recent ONS report puts online shopping as a proportion of retail sales at 28.1% in August 2020, while that is a fall from the peak in June the strong growth experienced over the pandemic has meant that online sales were still 46.8% higher than February's pre-pandemic levels.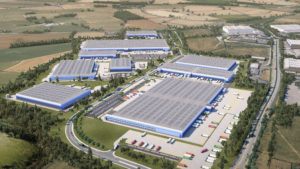 A rough calculation puts additional warehouse space required per house built now to take into account the extraordinary online growth is roughly 90 sq ft per home. While it is uncertain whether or not online retail sales will not fall back further, as society returns to normal, there are strong indications there has been a lasting and fundamental change in shopping habits.
Recent announcements by government to 'build, build, build' in terms of residential units with a target of 300,000 new homes a year will mean a further 27 million sq ft of warehousing space required each year to accommodate it.
At present government targets have not been met, though there is strong political pressure from Government to do so with the new Planning White Paper going through Parliament. In 2019 only 150,436 new homes were completed.
The BPF said, at the time of the What Warehousing Where? report's publication that: "The movement of goods to and from businesses and people is an integral element of the economy. Warehousing and logistics underpin the efficient operation of most, if not all, business sectors – and, to fulfil consumer demand and meet expectations for quicker deliveries, the right volume of warehousing space in the right locations, with the right transport infrastructure, is essential.
"Only two of the past six years, however, have seen total warehouse floor space in England grow by more than 20 million sq ft."
All-Time Peak
Academically that looks well and good but has there been an uptick in enquiries? Matt Claxton, Planning Director of Tritax Symmetry, has done some evidence based research across the North West to inform a planning enquiry into five schemes in the region that could provide upwards of 5.4 million sq ft of new logistics space, which have been called in by the Secretary of State.
"In terms of enquiries for the region," he says, "there is between 10.8 and 13.5 million sq ft currently for units above 100,000 sq ft."
Looking at just the south east, latest figures from Glenny note demand is at an all-time peak both in terms of floor space demand and the number of enquiries, and it seems to be increasing. According to its latest figures there were 398 enquiries for warehouse space sub 5,000 sq ft in the second quarter and that grew by the third quarter to 442. In the 25 – 50,000 sq ft size bracket there were 88 enquiries in the second quarter and that grew to 11. For units between 50 – 100,000 sq ft it grew from 34 to 41 enquiries and for units over 100,000 sq ft enquiries were up from 32 to 46 in three months.
John Bell, Managing Partner at Glenny, says: "These figures represent an all-time peak in industrial demand across the Glenny region; what I find particularly interesting is that the increase is seen across all size brackets and not just in the mid and big box territory."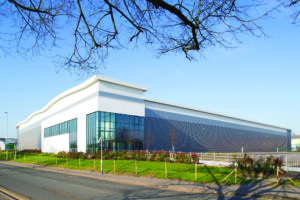 Bruce Topley, Managing Director of developer investor GLP, says: "There has been a constant and consistent level of enquiries throughout the year."
Tritax Symmetry Development Director Paul Chatterjee agrees: "Requirements are still coming thick and fast for new buildings which is really encouraging."
These enquiries are not just driven by e-commerce there is also an element of reshoring or onshoring in the light of both the pandemic and Brexit, which has highlighted the need for companies to re-examine their supply chains for longer lead time, slower moving goods and to rely on more locally-sourced materials and products. This would mean companies holding an increased local inventory, which is another reason to think warehousing will be in high demand.
Sam Pringle, Portfolio Manager at real estate investor developer LondonMetric, says: "The reconfiguration of supply chains to 'just in case' from 'just in time', suggests that the long term demand outlook looks robust."
There is always a flip side to every situation. At the end of September there was just 22.6 million sq ft of Grade A floorspace available nationally, and supply levels were 17% down on the end of 2019, according to the latest research from property consultancy JLL.
Ed Cole, Head of Logistics at JLL, said: "There is a particularly strong shift in demand for existing units this year and as a result we have seen a significant drop in supply levels. Nationally the vacancy rate is falling and at the end of the third quarter there was less than 6 million sq ft of space speculatively under construction nationally. As a result, we are already seeing a supply shortage coming through."
Research from Cushman & Wakefield concurs. Record take-up levels, combined with a slowdown in speculative development, meant there was an 11% drop in supply during the quarter. Supply is now below its historical average across all regions bar the Midlands and the South East, with the North West recording the sharpest year-on-year decline in availability (down 39%).
Richard Evans, Head of UK Logistics and Industrial at Cushman & Wakefield, said: "The market trends accelerated by the pandemic continued to drive demand during Q3. Robust take-up is fast eroding existing supply, with some regions and sub-markets now facing a shortage of suitable accommodation across certain size bands. Speculative development has slowed, which means this imbalance could persist."
Research by Savills has warned that unless speculative development returns to pre-pandemic levels, demand for warehouses will outstrip supply.
Savills notes that as well as demand from retailers and e-commerce businesses on the back of the pandemic, manufacturers are also looking to increase their warehouse space to secure their supply chains in a changing world and in the light of Brexit.
Manufacturing Squeezed?
Kevin Mofid, Head of Industrial Research at Savills, said: "A lot has been said about the rise of e-commerce and the impact it has had on industrial and logistics take-up here in the UK, but manufacturing is set to play a significant role moving forward especially in light of recent global macro events.
"As we know the average manufacturer relies on several associated trading partners, all of which are involved in the supply chain, therefore manufacturers receiving an increase in private funding will undoubtedly require additional storage and distribution space. Taking into consideration current vacancy levels, this shortage of available space is likely to intensify as retailers continue to stockpile and online retailers expand."
For Anthony McCluskie, Director, UK Asset Management, at industrial real estate investor Logicor what has been most interesting is not the fact that three out of its portfolio of four vacant units has been snapped up this year but the fact that: "Instead of potential occupiers seeking to secure what we have immediately available they are trying to look ahead more and trying to dovetail solutions against what we have coming back to the market in the future. A lot of the enquiries are coming from occupiers we have dealt with before: then it was what we had available, now it is what is coming back because there is not much out there in the market."
The supply shortages have been compounded by the fact that the uncertainty surrounding the pandemic and subsequent lockdown in effect put a bit of a hold on speculative development earlier in the year.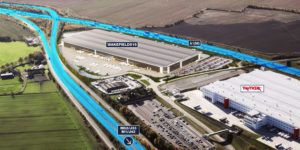 Pringle says: "The reduction in current levels of warehousing supply is being accentuated by the fact that developers and logistics investors paused on progressing speculative development schemes during the crisis."
Toby Green, Head of London & South East, National Industrial & Logistics at Savills, agrees: "There has been a blip in supply due to Covid and during the last six months period there was a reduction in the amount of speculative development starts on site."
Indeed, Claire Williams, Associate at Knight Frank, notes: "Despite the favourable supply-demand dynamics, the scarcity of available land and delays to construction and planning due to Covid-19 is stymieing the development of additional warehouse space. We have seen 29 construction starts between April and September this year compared to 69 last year – that is a 58% decrease."
Yet despite this, colleague Binks says: "We are seeing speculative space being delivered into the market but inevitably because of the pause in construction starts, there is going to be a lag before space is delivered."
Cole says this lag is around four months but 'now that everyone has seen how the market has performed those speculative development that were put on hold are now being pushed forward.
In July, St. Modwen confirmed being on track to deliver 1.2m sq ft of new space during 2020 with 53% let or under offer, up from 18% of committed pipeline at start of 2020, reflecting continued strong demand. It has also announced plans to speculatively deliver around 1.5m sq ft of space in 2021. GLP is on track to complete four units of 98,000 sq ft 126,000 sq ft, 300,000 sq ft and a 750,000 sq ft mega shed at its Magna Park Lutterworth scheme in the East Midlands in November.
Other big sheds under construction include AEW and Panattoni's Wakefield515 in West Yorkshire.
The building is set to be the largest speculative warehouse under construction in the North of the UK and signifies one of the sectors' largest commitments since the emergence of the Covid-19 pandemic. The unit is anticipated to be ready for occupation in the spring of 2021.
The 515,000 sq ft cross-docked warehouse will benefit from generous yards of up to 100m and will incorporate sustainable features including rainwater harvesting systems, use of energy efficient materials, PV ready roof and LED motion sensor lighting. The building will be built to a BREEAM rating of 'Very Good' and EPC rating of 'A'. Joint agents are Dove Haigh Phillips and JLL
As a result of the shortage of supply there is a consensus of agreement that rent levels will continue to rise.
Ferranti says: "Occupiers looking at rent reviews signed five to seven years ago linked to RPI are finding that when they are renewing leases back on the open market, they are seeing rents jump anything between 5 – 13%."
Rent Reviews
Indeed, Tritax Big Box secured a £1 million rental uplift following the settlement of six rent reviews across its warehouse portfolio in the third quarter of this year – equating to an increase of 8.5%.
In general research by Colliers is forecasting annual rental growth of around 1.2% this year with London and the rest of the South East expected to outperform at 1.7% and 1.8% respectively.
GLP's Topley says: "With vacancy rates across the UK now at 6% that just speaks of more rental growth."
That is no bad thing as this encourages further investment into the sector leading to more development. In general the outlook for the sector seems rosy, however, as Weston notes: "The biggest worry is the economy – it is very much a consumer economy and if unemployment rises and consumers stop spending the e-commerce driven bounce back could be hit."
Evans warns: "We have probably yet to see the impact of the economic downturn and 2021 could see more buildings returned to the market as a result of business failure."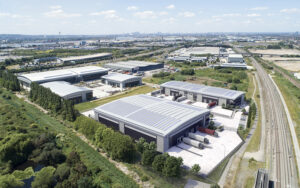 At present though SEGRO's Pilsworth notes that: "We have not seen a lot of second hand space coming back to the market so far."
Chatterjee is of the same opinion: "There is no denying we are in a recession and how quick that bounces back in terms of consumer spending will colour the outlook for next year to a certain extent."
Topley notes: "Second hand product coming back to the market following the expected business failures is likely to be Grade B and C and in many cases will either be obsolete or in need of refurbishment."
Whatever happens going forward, finding the right supply in the right location could still be an issue not just because there has been a hiccup in the amount of speculative development coming forward but because the antiquated planning regime and outdated attitudes towards logistics in the UK has not kept up, nor allowed for the fact that, the supply chain has transformed itself into a piece of critical infrastructure upon which the whole economy rests.
Evans says: "Generally the perception of the supply chain and logistics has improved but we are going from a pretty low base. Planning authorities struggle to understand that the sector is a major cog in making the economy tick."
In addition Jason Print, Partner of Gerald Eve, notes: "Local authorities look at local plans and say: 'Fine we have 200-acres for employment'; what they don't see is that the 200 acres may be made up of 40 to 50 sites and those cannot support modern logistics development of say 300,000 sq ft.
"There was always a reluctance for logistics development and it is definitely not at the top of the shopping list of preferred employment development."
Time, Money and Commitment
Because of these outdated attitudes and the cumbersome nature of the planning system Pilsworth says: "The biggest constraint and difficulty we have in bringing forward suitable land for logistics development is the planning system: the time, money and commitment required to bring a site forward."
It is not uncommon for a site to take upwards of a decade to secure planning and be fully developed. Claxton says: "Planning is not up to speed with how the world operates now and that is the big issue.
"In parallel with a lack of supply, occupier sq ft requirements are significantly increasing as business plans evolve.  We need the planning system to move quickly to support the devolution approach and would hope this would lead to more local and regional decision making, as opposed to central Government calling in sites that local authorities, which have a greater knowledge of their area, wish to grant."
Ferranti says: "The supply issue can be fixed with a more streamlined planning system if the government considers the sector as critical infrastructure for economic development.
"A positive attitude toward the sector is a key factor persuading local authorities and government to look favourably on development. There is still a long way to go: residential is always given priority. Residential brings votes: large industrial warehouses don't."
And nowhere was this more apparent than in the Government's Planning White Paper, which focused so strongly on housing that there was no reference at all to supporting development for employment let alone logistics per se.
Sinead Turnbull, Planning Director at Tritax Symmetry, says: "The White Paper has set aspirational housing targets, which will be determined by Central Government; no mention is made of how land will be protected to deliver the necessary employment needs of the country.

"Alongside the White Paper a further consultation was published setting out a new housing delivery test which would see 15% of the governments' aspirational housing needs directed to the north where around 25% of the population reside, this does not support the levelling up agenda. This disproportionate distribution of housing numbers to the south places even greater pressure on sourcing land for logistics space in the south where that land is being prioritised for housing.

"Logistics space is needed in the right locations to meet the needs of the population. It is logical that in the areas of highest housing delivery the necessary employment space to support the population must be delivered.

"There needs to be a greater understanding of the supply chain and its role in keeping the country moving as well as the diversity of employment roles available with salaries above the national average."
Tritax Symmetry's Claxton says: ""We were disappointed that employment was only referred to three times in the White Paper. This much-heralded reform of the planning system missed the opportunity to address the levelling up agenda. The hope is that the consultation process that is currently running and closes at the end of October will result in planning reform that supports and encourages logistics developments, rather than solely on housing."
John Sambrooks, Partner at Gerald Eve, agrees adding: "It is incumbent on central government to put UK logistics at the heart or at least the top table for future planning. It is all well and good wanting housing but people need places to work and somewhere to get their food and the things to fill these homes. Government and loal authorities need to start taking the industry seriously. At a time of national emergency the logistics industry stepped up to the plate and kept the country going."
Weston says: "During lockdown people in logistics were recognised as key workers, they had their moment in the sun but we need to take advantage of that  and shout about how important the sector is in keeping the UK going otherwise it will be forgotten."
It is not all bad news. Smith says: 'A lot of local authorities have been changing their mindset and releasing land to make way for employment use. Logistics is not always preferred option but the increase in the industry's reputation as a provider of quality skilled jobs is changing attitudes.
This feature was originally published in the November 2020 edition of Logistics Manager.