There has been a see change in attitude towards big box warehouse development on the lower end of the A14 in East Anglia.
According to Phil Dennis, director, commercial at Savills: "It used to be very much about churn and any new stock was not of any scale. It was thought that the demand was not there."
However, Nic Rumsey, MD of developer Jaynic, says there are a combination of reasons why that has all changed. He notes that firstly it is the improvement of A14 which has massively increased accessibility.
Secondly, he says, there has been a change of strategy from port related companies which are now looking to set up short-leg facilities beyond the Orwell Bridge possibly due to Brexit related manufacturing issues and more onshoring and lastly the exponential growth in e-commerce and subsequent demand for more warehousing space.
"In addition, there is a dearth of sensible site available within the traditional A14 corridor area between the A1/M1 leaving occupiers looking for space elsewhere."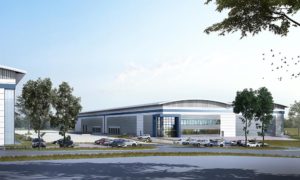 It is down to this combination of factors that Dennis notes: "We are seeing a proliferation of new schemes, in particular in Suffolk with Port One, Eastern Gateway, Suffolk Business Park and Gateway 14 – now there are opportunities to build big sheds which there had not been before."
Jaynic's Suffolk Business Park in Bury St Edmunds has been one of the most successful schemes to date. The scheme, which saw 147,000 sq ft let to Unipart last year, has now secured panning for phase two, which will comprise a further 367,000 sq ft across four buildings.
The second phase of warehouse units at the 114-acre scheme total 367,000 sq ft in four units of 37,000 sq ft, 80,000 sq ft, 100,000 sq ft and 150,000 sq ft, respectively. Letting agents are Hazells Chartered Surveyors, Bidwells and Savills
For even larger units occupiers can now look at options at the 2.3 million sq ft Gateway 14 industrial and logistics scheme in Stowmarket, Suffolk where a masterplan currently being drawn up allows for a single unit of up to 1 million sq ft.
A planning application will be submitted by the end of 2020, to enable a phased development on the site through developer Jaynic. It is hoped that the first buildings could be available in 2021/2. Gateway 14 Ltd, is a wholly owned subsidiary of Mid Suffolk Council. Avison Young and Rapleys are joint agents.
Ben Oughton of Jaynic says: "Despite the current health crisis there is strong evidence that there is still significant demand for well-located logistics warehouses [in there region].
It is not just big box warehouses that are in demand, George Dickens, Changcerygate says: "The majority of development across East Anglia in recent years has been focused on larger units, so we have taken the strategic decision to develop 19 units in a range of sizes from 2,052 sq ft to 51,0111 sq ft at a 145,000 sq ft site in Ipswich called Cranes Business Centre.
"it will be one of very few multi-unit freehold  schemes in the region, with the vast majority of developments along the A14 having typically been limited to larger units which are only available on a leasehold basis."