The East Midlands dominated take-up levels in 2019 according to property consultant Avison Young, accounting for 7.4 million sq ft of activity – nearly one third of the total take up of 22.1 million sq ft nationwide.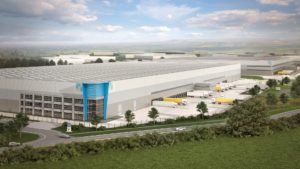 And the first quarter of 2020 does not seem to have shaken confidence in the region with CBRE's latest Logistics Snapshot noting that the region accounted for 38.3% of all take-up – which equates to some 2.4 million sq ft. Indeed, data from Cushman & Wakefield shows that take up in the first three months of the year was on a par with the five-year average.
Simon Lloyd, partner at Cushman & Wakefield says: "The East Midlands performed better than the West Midlands, and there had been a significant increase in enquiry levels at the start of 2020 following the election at the end of last year. Not all transactions have been put on hold as a result of the Covid-19 pandemic, although some have, but there is now evidence that some of those are coming live again."
John Sambrooks, partner at Gerald Eve, agrees: "The take-up in the first quarter of the year was strong."
This is typified by Aldi securing a pre-let for a 1.3 million sq ft distribution centre at Interlink South in Bardon, Leicestershire. Aldi had secured the 72-acre site subject to planning from Curtis Hall. Plans were submitted in February for a facility comprising 1,301,658 sq ft of space, that included approximately 50,000 sq ft of offices on two storeys as well as a 65,000 sq ft mezzanine. Avison Young is advising Aldi on planning. Cushman & Wakefield and JLL are letting agents on Interlink South.
Since lockdown started at the end of March, there have been a plethora of short-term deals. Lloyd says: "The pandemic has generated a number of short-term requirements, which many landlords are happy to consider."
Recently Asda took a short-term lease on a 317,000 sq ft warehouse at Mountpark Bardon on a fully serviced contract basis with Eddie Stobart, while Tesco is temporarily re-occupying its 617,393 sq ft warehouse in Fenny Lock, Milton Keynes.
The property known as Tectonic 620 is being marketed by JLL and despite Tesco re-occupying it, the property is still on the market in the long term.
Short-term requirements
In another short-term deal, Clipper Logistics has taken a 12-month lease with possible break at six months, on DIRFT 240 for NHS PPE distribution. The recently refurbished building has 206,293 sq ft of warehouse space as well as 28,643 sq ft of railside canopy space. It has 27 dock and three level access doors and a 14m eaves height. JLL and Burbage Realty are joint letting agents.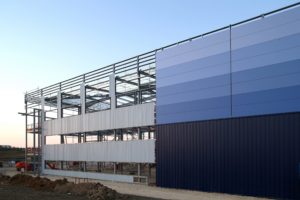 Len Rosso, head of logistics and industrial at Colliers, says: "There are more short term requirements than long ones coming to the market right now but that said there are still strategic requirements out there."
Sambrooks agrees: "There was a significant increase in short-term requirements, but enquiries are not all short term. Occupiers are looking at 2020, 2021 and 2022 onwards: the world may be disrupted but the fundamentals are still there for the take-up of warehousing space going forward be that triggered by the move from high street to online shopping, the result of on-shoring due to Brexit or the general churn of lease events – strategic requirements have not gone away despite the current uncertainty."
Simon Norton, director at Colliers, adds: "Most strategic enquiries announced prior to the end of last year remain live though some considered earlier this year look to be on pause for the time-being."
On the supply side, like most of the country it all depends on the size of space required. Mark Garrity, development director at Chancerygate, says: "Prior to the impact of Covid-19, there was a clear undersupply of small to medium sized warehouses and industrial units  aimed at SME markets, especially those available on a freehold basis and this is not likely to change."
Lloyd says: "Units between 100,000 sq ft and 150,000 sq ft are more limited at present but stock levels are not low." But the more pressing concern is the levels of speculative development. And the effect that the crisis is having on that flow coming to the market. "The level of speculative development has reduced a bit but it is still happening. A lot of sites initially went on hold at the outset but a significant amount have reopened where they can maintain social distancing."
Sambrooks agrees: "The speculative tap has been closing off but where developers can they are continuing with site preparation."
Indeed, Gazeley has been pushing ahead with its 1.3 million sq ft speculative development at Magna Park South Lutterworth, where it is moving on with infrastructure and ground works on site. The development consists of four units: a 755,820 sq ft mega shed as well as three units totalling 525,400 sq ft, comprising of a 300,300 sq ft unit; 126,300 sq ft unit and 98,800 sq ft unit.
A further extension to the Northern side of the park is also being developed on 225 acres of land, which will offer build-to-suit development options in a range of sizes with units from 100,000 sq ft up to 1 million sq ft in a single unit, and overall up to 3.3 million sq ft across the Northern side of the park.
Over-supply?
Jonathan Wallis, development director at Tritax Symmetry, says: "We are still on site with many of our projects where it is safe to do so and where we can maintain social distancing and safe work practices."
Norton says: "Those companies that had already started or already had funding committed to speculatively develop a site have largely continued with development subject to health and welfare rules and build times, in general, have only been pushed by a month or so."
In general, it is thought that at present given the nature of the crisis and the sustained demand perceived there will certainly be enough supply in the short to medium term.
Sambrooks says: '"Unless there is a big increase in second-hand space coming back to the market there won't be an over supply going forward."
Properties available now include a ream of sheds over 500,000 sq ft including Prologis' DC535 at Prologis RFI DIRFT. The cross-docked facility has two 55m yard and 21m eaves. It has 78 dock and seven level access doors, 147 trailer and 415 car parking spaces.  It has a power supply from 1.5Mva. In addition, it has been designed for and capable of expansion up to 940,000 sq ft. Joint letting agents are Burbage Realty, JLL and Savills.
There is also IM Properties' 532,000 sq ft warehouse at Hinckley Park, adjacent to Junction 1 of the M69 being let by CBRE, Avison Young and Wells McFarlane. Real estate asset managers AEW and Allianz, has a 525,000 sq ft cross–docked warehouse at the East Midlands Distribution Centre (EMDC), which it acquired with planning permission from CWC Group.
While on the secondhand front there is the Quantum unit at Magna Park, Lutterworth; SEGRO's 418,000 sq ft ex-Primark facility, which is being marketed by Avison Young and JLL.
There are also a number of developments that have secured planning recently including Tritax Symmetry's 2.31 million sq ft development at its 136-acre Symmetry Park Kettering scheme on the south side of Kettering just off A14. Tritax Big Box REIT is funding the development, which secured permission in March.
Wallis said: "This is one of the few sites in the East Midlands that can accommodate a single unit in excess of one million sq ft."