Today's consumer market demands logistics operators to constantly be on their A-game. There is no room for error as providers adhere to speedy delivery times, exceptional customer service and reduced costs. But how do you tick all the boxes? Maria Highland explores whether transport management systems could be the silver bullet operators are searching for.
Speedy and efficient logistics are the norm now as consumers demand increasingly faster turn over times on goods. Fuelled by the thriving e-commerce market, the journey parcels and goods make from distribution centres to various drop-off points require constant monitoring.
"The increasing importance of the customer experience and boom in e-commerce have radically transformed buying patterns and delivery expectations," says BluJay Solutions senior vice president, B2B operations, Sian Hopwood. "Almost every industry and aspect of society is becoming increasingly mobilised, and the supply chain is no different. Many organisations aren't coping well with the requirement for a constant level of scalability, or with the double challenge of reducing delivery costs while improving customer service."
DHL managing director, network logistics and transport, Ian Clough agrees. "Logistics operators are always under pressure to deliver value for their customers by driving cost out of the supply chain, so running the most efficient transport network possible is a priority. Equally, the network needs to be responsive to business' changing needs and fluctuations, so flexibility is another key requirement."
It doesn't just end there, improving customer service isn't the only thing pinching logistics providers. "Logistics operators are facing many issues – from rising insurance premiums and fuel costs to increased red tape and rapidly-increasing demand for same-day delivery services, which is putting pressure on last-mile delivery," says Connexas Group chief executive, Andrew Overton.
Issues of fuel costs come hand-in-hand with questions of sustainability, a growing concern for my consumers and businesses alike. JDA Software vice president 3PL industry strategy Peter van Merode points out that "there is undoubtedly a growing focus on sustainability, which means logistics operators must consider how transportation is affecting the environment as well as figuring out the quickest way get to their customers".
"Logistics operators are also being pushed to do more for less money," he adds. "There's greater pressure on price and margins, while at the same time they are being forced to come up with innovative solutions in different areas to open up new revenue streams."
With pressures mounting, the question is whether there is a solution that can help solve all these issues. The answer lies with technology, in particular, transport management systems.  "Technology is increasingly important (to commercial fleets) as a means of ensuring operational efficiency," says Overton.
"Investing in the right equipment and tools not only helps organisations become more efficient and increase margins, it can also help them reduce their carbon footprint at the same time," says Merode. "There's a real sustainability drive currently sweeping the industry, making this a valuable benefit." 
But, first things first, using a transport management system means making the switch and going fully digital, if you haven't already. This can mean improved efficiency across the whole business, not just on the road. "Manual systems are still a major challenge; hauliers planning work on spreadsheets or using disjointed systems are being hindered by the volume of paperwork, duplication of effort, errors and lack of available up-to-date information," says Mandata head of marketing Tracy Welford.
Likewise, disconnected systems can cause additional problems, such as a lack of operational visibility– a key component in providing customers with key delivery insights which can have a knock-on effect on the level of customer service consumers receive further down the line. "Some hauliers don't have the necessary visibility they need to monitor load progress to ensure jobs are going to plan," notes Welford.
There is also the risk that "key processes like electronic proof of delivery and invoicing are not connected. So, hauliers may have a transport management system in place or an app to collect proof of delivery, but they're not integrated. We hear some hauliers having to transfer information from one system to another which defeats the object." Without having a digital link to everything, information becomes duplicated or harder to find. Often operators must refer to multiple systems to find one answer as there is no central place where all the information is held. This makes resolving customer queries and issues all that much harder.
The more the merrier
As well making daily paper work life easier, transport management systems can help communicate key delivery messages, and even generate insights to make predictions, reducing future errors.  This is all down to the sheer amount of data being sent across supply chain operations.
"Mobile capabilities, such as active messaging, mean products and people are moving faster and more efficiently. With the roll out of 5G in the UK, we can expect the volume of data available in the supply chain to increase even further. The oncoming trends are therefore beginning to leverage new technologies for ambitious logistical goals," says BluJay's Hopwood. "Throughout the supply chain, data can be harnessed to enable transparency and thus synchronisation of the entire end-to-end process."
Likewise, Sixfold founder and head of partnerships Märt Kelder believes that "Big Data and Data Science hold the key to the future in the logistics industry. For example, each truck and its driver, as well as the carrier and loading station, has certain characteristics that can be derived from historical behavioural data," he says.
"Visibility datasets from millions of shipments becomes the source of deep predictive knowledge when processed with clever algorithms and machine learning and will change the way how people work, continues Kelder. "Whether your role is in dispatch, distribution, transportation logistics, or warehouse logistics, you need a comprehensive overview of your areas of activity."
Access to such a wealth of data provides logistics operators with insights into any potential issues, enabling better informed decision making. "Once goods are on the move, data from an extended digital ecosystem, from shipping times, to weather, to traffic and even social media can help by giving logistics operators as much information as possible, so they can sense and prevent costly problems," explains Merode. For example, if a tyre is losing pressure and may blow out, the transport manager will be altered and can take the appropriate action to minimise damage.
Modern logistics software helps bridge the gap between managing data and managing customer expectations. It ensures real-time visibility and communicates it electronically between customers and suppliers, keeping everyone in the loop. "Customer service teams receive real-time status updates and proof of delivery, as well live visibility of challenges, enabling them to find solutions. By managing all transport data in one place, we can access operational insights for customers, allowing better forecasting and planning," says DHL's Clough.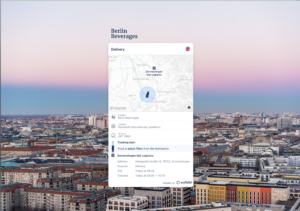 It is important to monitor business-critical shipments and know if a truck won't arrive on time or if something is amiss. "You'll want to be proactive, taking steps before some thing's gone wrong. And you'll want to pre-inform your customers, so they don't need to pick up the phone to ask what's happening," points out Kelder.
Even real-world plans can go awry, but when they do real-time visibility is key to remaining flexible. Increased visibility can ensure expedited problem solving and can actually provide higher customer satisfaction. "While meeting the mandate for right first time, every time may not be possible, proactive communication when problems arise is the next best thing," explains Kelder.
"In fact," adds Kelder, "according to the service recovery paradox, there are situations in which a customer thinks more highly of a company after the company has corrected a problem with their service, compared to how they would regard the company if non-faulty service had been provided! As a result, customer churn goes down while NPS scores and sales go up."
Access to vast amounts of data is not only beneficial for real-time decision making but can be used to generate predictions and refine operational processes. "There is a clear opportunity to be constantly reviewing and refining processes and procedures that are not optimal," says Hopwood. "Data analytics is at the heart of this. To manage the large amounts of data generated from such demand, centralised software solutions can store all supplier data in one place."
"The wealth of data now available also enables us to spot trends and make informed predictions on potential risk or inefficient driving habits," adds Overton. "We can therefore alert the operator or driver prior to the event happening, such as a potential tyre blow out, for example. As well as improving safety performance, this type of predictive telematics can optimise operational efficiency by minimising downtime."
The full package
But that's not all transport management systems can do for you. Transport planning is very much an integral part in increasing profit margins. It helps drives customer satisfaction and reducing fuel costs as well as, in turn, reducing carbon emissions.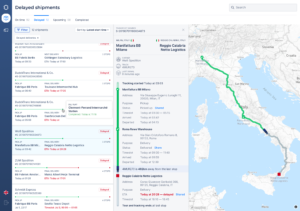 "Automating the transport planning process significantly reduces the time required to generate routes, while removing the risk of human error or dependency on a single colleague's knowledge," says Paragon Software managing director William Salter. "Having the tools in place to create robust and achievable plans will drive down transport costs and help make the best use of available driver and vehicle resources."
Likewise, optimising transport routes reduces the amount of time vehicles spend on the road, meaning less carbon emissions are being produced. Further cost savings can be achieved as transport management services use data-driven networks to optimise transport planning in real-time to optimise each truck load. "TMS optimises cost by maximising the use of existing space, thereby reducing empty miles and carbon emissions. TMS feeds practical optimised routes to drivers then tracks their journeys," explains Clough.
"The routing software that logistics operators use every day operationally can also help with strategic planning by modelling the impact of business change," adds Salter. "It is now possible to assess the potential cost, resource and service implications of an operational change without having to carry out an expensive and time-consuming trial."
Together, with a telematics offering, operators can have the full package. The 2019 annual UK Paragon customer survey found that logistics operators are seeking transport planning solutions to overcome the complexity they face within the supply chain. Demand for more accurate time windows was found to be the biggest planning pressure by 44 per cent of respondents, whilst 39 per cent said that ability to compare planned routes with what is happening on the road was the biggest pressure.
The former can be tackled with a sophisticated telematics solution and the latter with routing and scheduling software. Correspondingly, survey "results also showed that logistics operators are increasingly turning to integrated technology solutions to meet the growing need for added visibility and control over transport operations," points out Salter. "It found that almost all respondents (97%) are using some type of telematics solution and almost half (45%) are interfacing this technology with their routing and scheduling software."
Operators are interfacing the technology to further develop and unite the benefits both technologies offer independently. This give operators "the ability to compare what is happening out on the road with the transport plan in real time. This is helping to deliver improved customer communications, real-time visibility of the fleet's performance and better resource utilisation," says Salter.
The integration of telematics with routing and scheduling software means that "logistics operations are now able to take advantage of real-world data within the planning process and ultimately boost operational performance," says Salter. "Combining route optimisation software with vehicle tracking and proof of delivery software means critical data will be accessible via a single system, helping to remove the operational silos that currently exist between the planners, transport office and drivers so logistics operators can achieve even higher levels of visibility and control," he points out.
As highlighted by Paragon's customer survey, almost all respondents are using a telematics system, with almost half interfacing it with their route scheduling. This poses the next question: what next? Technology is constantly developing and bettering so there is no doubt that there will always be room for improvement.
"There's a plethora of new technologies entering the market," says JDA's Merode, "notably with in-vehicle driver support but also using cloud-based tools and applications helping drivers and planners to better visibility with what's happening on the wider road network and supply chains, providing more information and ultimately leading to better decisions. Companies are also beginning to get a firmer grasp of what's going on inside their trucks or containers, whether that's where they are located or, for example, the temperature goods are being stored at."
Merode predicts that there will be a few innovations that will make a difference in the coming years. "Firstly, route optimisation software will continue to improve, allowing logistics operators to use the smartest route possible, further improving sustainability; this will also include increased use of IoT possibilities," he says. "We'll see predictive analytics continue to move even further into the limelight, empowering companies to mine data and better plan and react in real time."
Mandata also believes that data will continue to play a huge role in transport management as part of a trio of key themes: "Connected. Data.  Mobile," states Welford. "Altogether they give you greater visibility. Combining all the key data and metrics you need allows for greater predictive analytics to pre-empt situations and implement change to drive improvements. Being able to see a complete view of you can look forwards, back and see what's happening now. You're far better equipped take proactive and positive actions," she says.
And for Connexas' Overton, predictive telematics is the main trend set to take off in the coming years. "With more on-board sensors than ever before and greater focus on systems integration, there is an opportunity for logistics managers to harness big data to ensure delivery routes, fuel efficiency and safety are optimised," he says.
Likewise, "The Internet of Things (IoT) is already impacting the world of telematics and this is likely to continue to bring benefits for the logistics manager," adds Overton. "The growing focus on systems integration and real-time data is revolutionising the role of logistics manager – no longer are they simply responsible for running reports and presenting data back to the business, they are capable of agile decision making to optimise efficiency and improve safety as part of day-to-day operations."
This feature originally appeared in the November 2019 edition of Logistics Manager: click here to subscribe to the print edition