Coming into 2020 and the West London warehouse market could only be described as robust with more than 1.7 million sq ft of space snapped up in 2019, the highest level since 2014 and the second strongest year on record according to Gerald Eve's Prime Logistics report.
Then lockdown struck says Sarah Downes, director, Heathrow and West London team at JLL, 'and it was all about saving deals'. She says that against expectation they did not actually lose a huge amount and for the last six weeks it has been 'business as usual'.
"It has actually been a bit of a rollercoaster ride and we recently had a week where we put 20 deals under offer across West London and the Thames Valley -all at five year term certain."
All property agents and developers alike, who commented for the feature, agreed that despite the extraordinary times, demand for space from logistics occupiers across the region has been resilient.
Alastair King, head of development at Chancerygate, puts this down in large part to the 'online retailers, which have had to alter their supply chains due to Covid-19. This has seen them take up a lot of space over recent months, which is especially the case in this region as it is well-placed with excellent motorway links to serve a large proportion of the population."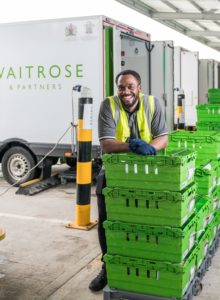 Indeed, Waitrose has announced the development of a third customer fulfilment centre for London in Greenford. Due to be in operation by December 2020, the new centre will create 800 jobs and four times as many delivery slot options for local customers.
Waitrose MD James Bailey says: "While we've already pulled forward our online expansion plans by six months, we know there are still lots of people who want to shop online with us and currently can't. This is especially the case in London, where we've seen a significant and prolonged surge in demand for our online offer. This new centre will help us better serve the London area with a much broader range of slots."
Like many grocery companies Waitrose says it had seen online orders surge. For Waitrose this has been by more than 100% during lockdown and it admits it had been unable to meet demand within London during the covid-19 lockdown.
During the crisis, Alan Holland, director for Greater London at SEGRO, says: "Any client in e-commerce saw their overnight demand go through the roof – a trend we all knew was there (the move from high street to online) has been accelerated due to the pandemic. The issue now for companies is to grow revenue and service that demand and that will require strategic thinking and most probably more warehouse space."
For Bridget Outtrim, director of the south-east industrial team at Savills, says: "Despite what is happening across the economy as a whole, industrial and logistics has remained resilient, we have done deals throughout lockdown and have buildings under offer."
In the middle of lockdown
Unsurprisingly many lockdown deals have involved couriers, parcel companies and 3PLs and these have included Dubai-based express courier Aramex UK taking LaSalle Investment Management's Cargo 777 warehouse in Poyle, Heathrow doubling the amount of space it already occupies.
The company took the refurbished 80,782 sq ft facility on a 10-year lease with Aramex chief executive Othman Aljeda noting: "The facility will help in supporting the rapid growth in demand for our logistics solutions."
Over in Iver, Buckinghamshire, parcel company DPD has taken Unit 1A Ridgeway Distribution Centre and is busy recruiting. The property totals some 40,000 sq ft on a 2.3 acre self-contained site. It has around 36,000 sq ft of warehouse space with 8m eaves and five level access doors as well as two-storey modern offices.
Logistics firm Paack Logistics UK took global investment manager Federated Hermes' 33,446 sq ft warehouse at Perivale Park in West London. The unit comprises a warehouse, ancillary office space and car park, and has recently undergone refurbishment.
Alex Kington, vice-president of commercial agency at Altus Group, says: "Paack's requirement was to triple its warehouse space, in close proximity to its existing space in Acton – a tall order in this market – and the transaction happened within six weeks of the first viewing."
Paack secured the deal in May this year smack in the middle of lockdown.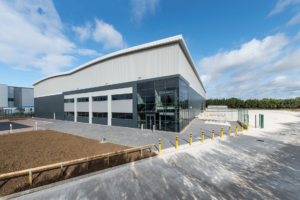 James Craddock, development director at SEGRO, notes: "It's not just larger units that are being taken up there is strong demand throughout all of the size brackets. We were expecting demand to be slower at the smaller end of the scale but we have just not seen that yet. Obviously, things can change quickly but we are not seeing large scale insolvency coming through – though it is something to keep an eye on."
The flip side of this demand is a lack of supply. According to Gerald Eve completions in the market in 2019 were 21% below the five-year average of 670,000 sq ft on the year before and 80% of that was purpose built which meant that vacancy rates halved to 5% at the end of 2019, down from 10.9% in 2018.
At the beginning of the year pre-Covid-19, Kevin Mofid, head of logistics and industrial research at Savills noted that in some areas of London industrials had a vacancy rate of just 2.4%.
"London continues to have historically low vacancy rates and occupier demand continues to rise," he says. "As online retail continues to grow the need to have more warehousing located near population centres will remain."
According to research from Savills earlier this year pre-cCovid-19, London was set to require up to 6.49 million sq ft of warehouse space per year, a 419% increase on current levels, in order to keep up with the delivery of new homes in the capital. Savills has calculated that in order to meet current demand for housing in the capital, London will need to build up to 94,000 homes per year.
Who? What? Where?
The British Property Federation's (BPF) 'What Warehousing Where?' report stated that, at a national level, 69 sq ft of additional warehouse space will be needed per home in order to fulfil deliveries generated by the growth in online retail, that was calculated on online retailing accounting for just 21.4% of all retail transactions in the UK – a figure that has been surpassed in by more than 10% in the last five months.
A rough calculation puts additional warehouse space required per house built now to take into account the extraordinary online growth is 98.5 sq ft per home – an additional 2.77 million sq ft per year.
At present, based upon the five-year average, only around 1.25 million sq ft of industrial development is completed annually in London, suggesting a potential short fall of 8 million sq ft of warehouse space.
"There is a real lack of space," says Downes, "and nothing is coming to replace space taken up."
"Even with stock coming back to the market due to company failures," says Patrick Rosso, director at Colliers, "with voids so low in the market, the additional space will most likely be swallowed up."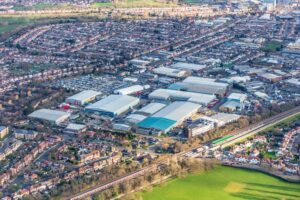 Angus Huntley, development manager at Stoford, says: "The lack of supply in the market is critical and if occupiers have already got the space they are willing to stay and make it work even if it's not perfect."
For logistics operators the lack of supply is an issue and only made more acute by the fact they are not the only occupiers chasing it says Outtrim. Recent months have seen a huge rise in internet usage and correspondingly huge demand from data providers to secure space for data centres. "And they have big money for industrial land."
It is thought that Panattoni struck a deal with a data centre provider for the whole of its 30-acre site in Slough effectively wiping out 770,000 sq ft of industrial and logistics space on one fell swoop.
Craddock says: "Demand for space for data centres has increased – they have been direct beneficiaries of Covid-19 lockdown and we are not seeing that abating."
As well as data-centres, there are also film companies seeking industrial space in the region. In 2019, two of the largest deals transacted saw 431,000 sq ft of warehouse space snapped up by film production companies and while these have been shut down due to covid-19, Outtrim says she is aware of several enquiries active in the marketplace.
Unsurprisingly there has been less speculative space brought to the market but that is not to say all developers are fighting shy.
Chancerygate is about to bring forward speculative development totalling 600,000 sq ft across five scheme in Chertsey, Bracknell, Marlow, High Wycombe and Chesham. King says: "The high levels of occupational demand, balanced with low supply levels that we're witnessing west of the M25 has strengthened the case for speculative development."
Stoford is also building speculatively to the north of the region at its ICON Harlow scheme with joint venture partner TPG Real Estate.
It has two units available Unit B is a 96,826 sq ft warehouse unit boasting three-storey integral offices and Unit C is a 68,100 sq ft warehouse building, with two-storey integral office space. It has secured planning for a further phase of two build-to-suit units providing up to 270,000 sq ft.
Property giant SEGRO which owns the Slough Trading Estate is also building speculatively. It has two units being developed on the Trading Estate on Bedford Avenue – one of 18,000 sq ft and another of 24,000 sq ft which will PC in the Autumn. In addition, it has its SEGRO Park Hayes scheme, which has four units – one under offer – from 24,000 to 98,000 sq ft.
The investor developer recently paid £202.5 million for Federated Hermes 34-acre urban park in Perivale, which includes an eight acre developable plot of land.
Holland says: "Perivale Park is a perfect fit for SEGRO, sitting adjacent to the A40 and nestled between our core holdings in Greenford and Park Royal. It offers a rare opportunity to build further scale and drive value in an area where we already have considerable expertise and knowledge of the local market and customer base. It also offers medium-term development and redevelopment potential in one of London's prime, and most supply-constrained, industrial clusters."
SEGRO was advised by Altus Property Services. ACRE Capital Real Estate acted on behalf of Federated Hermes.
Holland adds: "We are continuing to pursue pockets of development and in many cases we are the only show in town."