For SMEs, an investment in materials handling equipment means an investment in the future of the business. So, how does and SME benefit from increased operational efficiency? Christopher Walton investigates…
When it comes to buying and operating materials handling equipment SMEs require one thing above anything else: flexibility. This flexibility manifests itself in the ways that equipment is purchased, the ways it is run in the warehouse and ways it can adapt to future requirements.
Furthermore, SMEs have to take into account wider concerns over Brexit, the economy and growing political paralysis, as well as a whole raft of on-going commercial challenges, from unpredictable spikes in demand and changing markets, to shortened contract periods and sudden shifts in business strategy.
Alan Clark, asset manager at Doosan Industrial Vehicle UK, says that such uncertainty makes it difficult to commit to long-term contracts on materials handling equipment.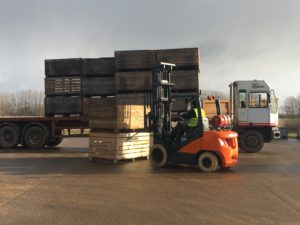 "So how can businesses provide the agility needed to respond to changing operational requirements, with minimum exposure to risk?" he asks. "Flexibility to hire and de-hire at short notice allows for greater responsiveness when it's needed and can offer additional support to an existing fleet – without the prospect of being burdened with unnecessary costs stretching into the future, or a punitive cancellation fee."
To that end, he says, Clark says short-term rental can be used strategically to supplement the handling capacity of the forklift fleet and add the flexibility needed to cope with surges in demand or a sudden change in direction.
"To achieve the best results, it's necessary to understand the dynamics of your own business as much as possible, to identify opportunities for creating flexibility and to plan in how short-term rental can work to your advantage," he says.
Tracy Brooks, logistics industry manager at Hyster Europe, says that logistics is, by its nature, unpredictable for SMEs. To counter this, she argues, manufacturers have to supply a reliable product that can offer consistent cost and operational efficiencies.
Changing Operational Needs
"What's more, as variables and operational needs change, the global network of local Hyster dealers can provide short term rental agreements that can enable fleets to adapt as quickly as needed.  Where budgets are always high on the agenda, this can also help organisations to more effectively manage their capital expenditure," she says.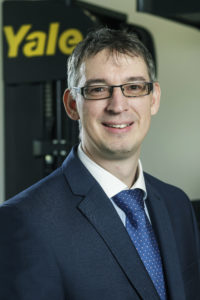 It's more than just finance says Ron Farr, manager, warehouse solutions at Yale. A personal touch via its distribution network "creates a bond locally" with SMEs.
This is reflected in the way that Yale is set up globally: there are global accounts in EMEA, like CEVA Logistics; there are major accounts, a significant client with a local geographic coverage, such as Eddie Stobart Logistics in the UK. Beyond that it breaks down into territories, where there is a regional manager and a territory salesperson as the primary contact for SMEs.
"At a dealer level the salesperson has an area with a certain amount of sales activity in that environment. So, they have a full view of everything in that territory, no matter how big or small they are. It is important for those territory managers to have a broad understanding of what the capabilities are.
"We have a very broad range of product, not just materials handling but ancillary equipment, from ride on tow tractors to trailers and all of the components that go with it," he says. "The smaller to medium company sometimes may be looking for a product with a high quality but with a low utilisation. That is a little bit different to high intense abusive environments. It is not that it is cheap, but it is a slightly different product that maintains a high quality but has low utilisation."
One major trend SMEs will have to consider is how MHE is changing as customers look to automate and digitise warehouses. Jon Buckley, commercial director at Toyota Material Handling, says: "Like in all businesses, automation is here and it's ready to be utilised to improve productivity."
Simple Automation
As a result SMEs could look at introducing simple automation in their warehouses, Buckley says: "Simple automation is a low cost and an easy way of approaching the challenge of automation which will help to optimise, standardise and simplify an operation. One solution could be the Toyota's Radioshuttle, a semi-automated high-speed load carrier. Working in specialised racking and guided with a remote control this solution enables high-density storage and a maximised number of pallet locations, saving space and costs, maximising storage and creating a larger ROI.
"Another technology SMEs can take advantage of is fleet management telematics systems, such as I-Site. This tool, developed by Toyota, allows a fleet to be connected to the organisations back office and gives a complete view of all trucks within the fleet. By accurately measuring performance levels in a warehouse, the data can be collected to understand how to improve productivity, safety and decreasing downtime"
SMEs will continue to benefit from ongoing investment, development and innovation of simple automation products, Buckley argues, resulting in increases in productivity and RoI. For many SMEs, he says, the challenge is and will continue to be about doing more with less. From a manufacturer and suppliers' point of view that means developing MHE that is designed to maximise efficiency and safety.  Such MHE, says Buckley, can amplify the work that one operator can achieve on any given task.
"Looking further ahead, the digitalisation of materials handling, already evident in todays automated forklifts and systems like I_Site will be key in helping SMEs achieve their full potential," he says.
Hyster Europe's Brooks says that the prerequisite for SMEs making the best possible use of a warehouse is efficient planning. To facilitate this, she says, Hyster has designed warehouse simulation software, that can take space constraints into account and identifies solutions that still deliver the required throughput at peak times – all at a low total cost of ownership.
Robotics and AGVs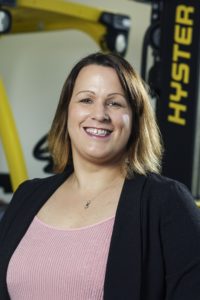 "Robotic lift trucks from Hyster Europe also enable SMEs to introduce 'affordable automation' to the warehouse, driving efficiency for repetitive handling tasks. It is possible to automate activities such as moving pallets or towing trailers using Hyster lift trucks," she says.
"Unlike automated guided vehicles (AGVs), Hyster automated trucks can easily integrate into existing infrastructure without compromising toughness and be programmed to interact with other vehicles and people. For example, they will stop and give way. Our robotics solutions are based on our lift trucks from series production, and the trucks can still be operated manually. This dual advantage means robotic technology can be switched off at any time, and the driver can control the machines in manual mode if necessary, providing a flexible solution for SMEs."
Given how digitisation and automation will transform materials handling in the coming decade, Farr at Yale says that SMEs have flexibility to be on the front wave of what current trends are.
"Whatever business they are in their USP is to adapt quickly to growing trends, says Farr. "The forklift truck might not be something that needs to follow that trend with them. It is typically seen more as a piece of machinery to support them in their core business. There is not really much emotion in the selling process. The ergonomics and the operation are still critical to the decision. It is a different motivation in buying. From a customer perspective they often talk about the employees vetting the vehicle, but if you had a new employee would you allow them to dictate what truck the company buys?
"Automation in the past has always been associated with being very inflexible. We see it as an affordable solution. You do not have to have a big fleet of trucks, just one or two that operates a repetitive task. They do not have to be integrated into a big WMS either, they can be stand alone."
Hills Prospect goes all-electric with Doosan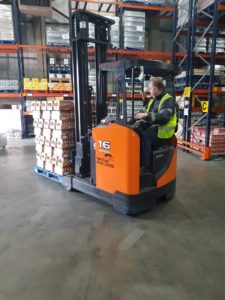 Hills Prospect is a drinks distributor in London and the South East, supplying beers, spirits and soft drinks across restaurants, hotels and public houses.
The business has grown rapidly over the last forty years and in 2012 it moved into a 54,000 sq ft distribution centre in Romford, where it assembles orders for its expanding customer base from its range of over 3,500 products.
Fast and dependable customer service places a heavy emphasis on the efficient running of the warehouse and the reliability of the materials handling fleet. Nigel Metcalf, depot manager at Hills Prospect, says: "We're operating six days a week, 22 hours a day, so there is very little room for downtime."
Eight years ago Hills Prospect operated a mixed fleet of forklift trucks, but in 2012 the business decided to single source its materials handling equipment from Forktruck Direct, the local Doosan dealer, and standardised on Doosan. Equipment supplied included reach trucks, powered pallet trucks and gas powered counterbalance trucks.
At the time, gas powered counterbalance trucks seemed the best option for yard duties, unloading lorries and transporting pallet loads of heavy drink products and kegs of beer. However, when it came to reviewing the contract in 2018, Doosan's B20X-7 electric counterbalance trucks were considered to be the most cost-effective and environmentally friendly option for outside work.
Under the new six-year rental and full-service contract, Forklift Direct have supplied an all-electric Doosan fleet comprising: two of Doosan's latest BR16JW-7 reach trucks, three industry-leading B20X-7 electric counterbalance trucks, five easy-access LEDH20SP platform pallet trucks and two LEDH20M powered pallet trucks.
Operating to a tight order-fulfilment schedule, with a 2pm cut-off for next-day delivery, demands maximum uptime from the forklift truck fleet, both within the warehouse and outside in the yard. So, ensuring uptime comes down to running a well-maintained fleet on a balanced charging regime.
Metcalf says the all-electric fleet is meeting the challenge: "Charging cycles are not a problem as the batteries last for a long time on one charge. Although we have quite a number of forklift trucks and powered pallet trucks, they are not used constantly, so one full cycle per week is sufficient – and it's working well."
This feature originally appeared in the January 2020 edition of Logistics Manager
---
Click here to subscribe to the print edition of Logistics Manager