With the rate at which technology accelerates, we ask ourselves what the next step is in the warehouse, in the supply chain, and in the world of logistics in general. Businesses need to focus on keeping up with this acceleration, while keeping sustainability in mind. So, can they do this with the help of robotic and cobotic technology, and other automatic processes? Michelle Mooney delves deeper into the world of the next generation of automation.
Many warehousing processes have already been fully automated and have allowed for increased efficiency by lessoning the burden of some manual labour tasks formerly carried out by employees. Furthermore, automation has led to huge transformations in transport technology and e-commerce.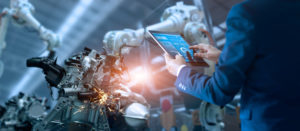 John Bates, chief executive at automation software specialists Eggplant, says: "We automate systems others thought to be un-automatable! This includes NASA's Orion spacecraft – which will be going to Mars, omni-channel e-commerce systems, warehousing and supply chain, hospital systems, including Electronic Medical Records, insurance and banking processes and in-car infotainment." So, I guess you could say, that's one small step for Eggplant, and one giant leap for next generation automation…
Marcus Wuerker, chief information officer, UK and Ireland, at DHL Supply Chain explains how this is being achieved: "Across our operations we're using a wide range of different smart technologies and innovations, from robotics to automation processes to digitalisation."
Currently DHL has more than 1,300 digital initiatives running in more than 340 warehouses worldwide. By the end of 2020 it expects that nearly 80% of all of its 2,200 warehouses will be using some kind of automation. Wuerker says that various technologies have proven reliable commercially: "Assisted picking robots are especially valuable in a business like ours, and particularly so in large warehouses, with a greater distance to travel between items.
"Autonomous Mobile Robots can save warehouse operatives up to 20 miles of walking every day. They work collaboratively and safely alongside warehouse staff, helping to quickly locate and pick items so pickers don't have to push carts or carry bins, increasing productivity," he says.
Oliver Kingham, MD at LLM Handling, says there are changes in the warehouse after automation measures are introduced: "The warehousing sector has seen a sizeable acceleration in automation processes over the past few years. Leading manufacturers recognised the demand for increased automation and have introduced a range of new products to meet that demand."
Kingham says that automation has been an integral part of manufacturing and production for decades but, the nature of automation has evolved significantly, especially in the last ten years: "The relentless drive for improved efficiency looks for every opportunity to automate processes and replace humans with machines wherever possible. The car industry is a clear example of this. Assembly lines produce cars at ever increasing speeds, using state of the art machinery. As well as increasing production efficiency, this automation also saves significant costs. It's hardly surprising that this approach would be adopted more widely, given the benefits it delivers."
To this end Kingham says that production line carts, tow tractors, pallet trucks, pallet stackers and very narrow aisle trucks all offer a broad range of automated processes: "In the early days of automation, there was a compromise between automation and machine capabilities – but models are now able to cater for the majority of demands, including low and high-level racking. Move over, these machines are capable of working with capacities of up to 1500kg, which marks a step change in machine capability."
Effective implementation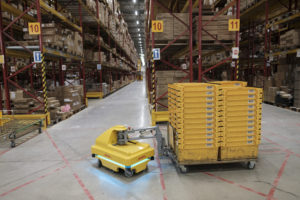 Rahul Chalisgaonkar, associate partner for manufacturing at Infosys Consulting, says that although the future of automation in the warehouse looks positive, it is not without challenges when it comes to actually implementing it effectively.
"Automation as a technology has a very bright future ahead – but not all industries are at par. While a robot can help manufacture a microchip for the likes of Intel, almost manufacture a whole Tesla body, and can chat with users online to resolve their queries, the adoption of automation in the warehousing space has been quite challenging.
"While the foundation level of automation, such as using barcode labelling, has been implemented by almost all organisations, a big chunk of organisations are yet to implement the full scale of automation. This could include automatic sorters, palletisers, robotic picking, AGVs, and AGV software," he says.
Chalisgaonkar says that organisations such as Amazon, IKEA and Nike are at the forefront of this new level of automaton. They are taking bigger leaps in more advanced applications, he says, adding that they are also struggling with the cost-benefit side of such use cases – like having to train a robot for many hours just to do a simple piece of work. "Given that AI technologies have not matured fully, applications of these use cases will take at least a couple more years."
Paul Rivers, MD at Guidance Automation, says automation has succeeded in various industries, and believes that autonomous processes will continue to expand: "From robotic X-Ray machines in hospitals, cleaning machines, tuggers, pallet trucks, parking lot automation, baggage handlers in airports, stage scenery automation in the theatre, we have been involved in all of it. The rapid expansion of autonomous movement is still going on and will for some time yet. There are many processes involved in automating a vehicle and there are, of course, pros and cons."
So, learning how to handle the challenges automation brings is essential in advancing it, Rivers suggests: "As the hardware and technology advances, so does the software to drive all of this. When prices fall, automation becomes more affordable and hence the success rate increases. But [AGVs] need relatively clean and controlled environments.  There are very few environmental issues to complicate the operation. Staff are trained to interact with the vehicles (or at least understand their movements) which makes safety easier too. But automation isn't right for everything and that's where the experience of seeing the challenges over the years, helps quickly identify where it won't work, or find a suitable workaround."
DHL's Wuerker suggests that the next generation of automation will bring the wider use of robots in warehouses, along with other intelligent systems like AI to handle repetitive tasks in the warehouse: "The next generation of automation, we believe, will effectively see us moving from relying solely on robotics process automation, and a focus on robotics working on repetitive and routine tasks, to a much greater use of AI processes in the warehouse, either by themselves or combined with RPA and data analytics to create powerful efficiencies."
Robots, cobots and AGVs
LLM Handling's Kingham says: "Companies like Ocado, Amazon and Alibaba all demonstrate the benefits of using automation within the warehouse. These companies all use robotic 'pick and pack' operations on a vast scale. This means they are able to identify and collect products to be dispatched using Artificial Intelligence (AI) systems. These AI systems ensure that the most efficient processes are used to store, manage and dispatch goods – saving significant amounts of both time and money."
He says there is a growing demand for such technologies, and that the cost of automation will fall in time as it becomes more widely available: "The advances made to date have been huge, but there is a constant demand for the next improvement – wherever that comes from. At the moment, it looks like this will be ever-smarter AI systems that manage automated machines, further reducing the need for human input – both physically and strategically.
"There is also a strong suggestion that the cost of automated equipment will fall, as it becomes more widely available and then commonplace in the warehouse environment. Although the technology currently exists, it can be very expensive to install," Kingham says.
"Moreover, it can be a lengthy process that calls for significant support from the team in order to maximise the benefits it offers. As more manufacturers start to offer these automated solutions, they will become part of standard warehouse logistics."
Eggplant's Bates says that the next generation of automation will mean technology being able to see things from a human perspective: it will mean "automating through the eyes of the user i.e. being able to understand images and text on the screen as a human would and drive any system like a human so applications can replace humans and measure based on user experience."
He also says that the next generation will also entail "automating across many different systems e.g. a supply chain or warehousing process may go across mainframe, desktop, web and mobile" and intelligent automation such as "using AI to automate the process of creating automation and tests."
Infosys' Chalisgaonkar believes that some companies are not able to fully implement autonomous processes just yet; "If we talk about what some of the leaders are doing in this space, even Amazon is not able to widely apply automation use cases. Instead, it is using automation to do simple but useful tasks, such as following a specific path within warehouses and sending stock from point A to point B.
Human functions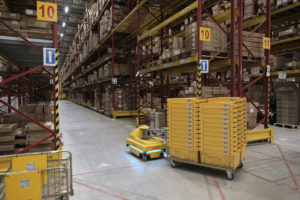 "Based on recent advances in robotic arm and automation technology, we foresee the next level of automation to be in automated picking, packing, sorting and shipping. Given that it requires a robot to function like a human arm, it is still a challenge to master these moves. There are a couple of US based start-ups focused on making this happen, who are leaps and bounds ahead of the others. For example, Kindred makes a robotic arm that Gap deploys in its warehouses to perform dynamic product picking with some manual assistance," Chalisgaonkar adds.
Guidance Automation's Rivers is quick to clarify what he believes next generation automation actually means for intralogistics: "The current generation of automation is about moving goods around a warehouse.  That could be pallets, heavy loads or small robotic vehicles moving small boxes from aisles to a packing area, or they could be bringing whole sections of inventory (goods to person) and allowing a pick to take place before the remaining inventory is returned to store. This is about not having humans walking around all day. Humans have skills which are still very difficult (or expensive) to replicate. So, we make them more efficient, by having a fleet of robotic vehicles wandering around a facility to do the unskilled work such as collecting and dropping products at various locations, the fetching and carrying…"
Think about putting your hand into a container, orientating that hand and fingers, grabbing the object whilst working out what it is, thinking about how hard to hold it, pull it out of the container and know if it needs to be delicately placed down or if it can be dropped in without damage, while at the same time, considering the other objects which might already be in the container. This is the next generation of automation.
Rivers says that robotic hands with a suite of sensors to replicate vision, touch, dexterity and even sound is currently very expensive and slow to do: "Every year companies such as Amazon sponsor competitions to see if teams can pick a variety of parts, different shapes and sizes to chart progress in this area. Successes will be commercialised."
DHL's Wuerker says that he believes that the next step in automation will take place in the warehouse, where a digital model will provide us with information of an item.
"We expect that an increasing number of decisions will be taken by the digital twin in the warehouse setting, where a virtual replica of the physical product, process, or system provides us with an unprecedented level of information.
"We'll also be working on dynamic allocation of resources within the warehouse between put-away, pick and dispatch processes as well as dynamic prioritisation of work within these processes e.g. which item to pick next."
Storing and processing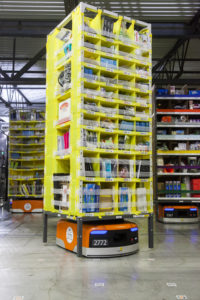 LLM Handling's Kingham believes that the next generation of automation will be driven by pallet handling. He says that Amazon and Alibaba have led the way, installing automated processes for storing and processing orders. Furthermore, her says, the industry is moving towards a system where pallets are located within racking, using fully automated forklift trucks.
"The pallets will then be collected at ground floor level by fully automated pallet stackers and delivered directly to the dispatch area," he says. "Many market leading forklift manufacturers are already designing, and in some cases supplying, fully automated equipment in preparation of this next evolution of the market. For large scale distribution, where lorries are loaded inside warehouses or loading bays, automated stackers will even be able to load lorries directly, relying solely on intelligent automation (IA)."
Guidance Automation's Rivers believes that in order to promote productivity, automating is the warehouse is essential: "Automation is about efficiency, and the most efficient systems have the fewest humans. These systems are designed from the start of a new warehouse facility being constructed."
DHL's Wuerker adds: "An automated system is a long-term solution as equipment is complex and can be large and difficult to manoeuvre. However, with the rise of machine learning, industrial robots and automated systems now have the ability to self learn and recognise patterns, which mechanisation and automation haven't previously been able to do. They are more flexible, more complex and have the ability to change sequences which they couldn't do before."
So, as technology advances, automated processes are becoming increasingly easier to implement, which could mean that human employees performing repetitive tasks, can be limited. The benefits of robotic process automation (RPA), and intelligent automation (IA), are becoming increasingly prevalent, however, businesses will have to ask what the benefits are, and how can it improve warehouse performance.
Infosys' Chalisgaonkar says RPA and IA differ both offer a means to improving efficiency: "In very simple terms, RPA is rules-driven and based on automating repetitive tasks without much intelligence. IA is more advanced and is based on replacing any human tasks by requiring machines to behave like humans, and using advanced technologies such as machine learning, voice recognition, problem solving, and perception of touch."
Eggplant's Bates adds that intelligent automation and robotic technology can improve the business by reducing errors: "RPA automates manual developer processes, making business users more effective and simultaneously improving business outcomes by reducing the errors involved in manual data entry by automating the execution of repetitive process tasks. IA on the other hand, integrates all the capabilities found in RPA, as well as adds capabilities to process automation possible only via bots that learn and adapt to data in real-time."

If you're looking for the very latest automation technology then register for IntraLogisteX 2020, which takes place on 29th and 30th September at the Ricoh Arena, Coventry. For more details go to:  www.intralogistex.co.uk