Optimisation is one of the top concerns for any warehouse manager, so investing in quality racking and shelving, and utilising storage space to best increase efficiency, is a way to that goal. Michelle Mooney examines how to make the most of investment in racking and shelving.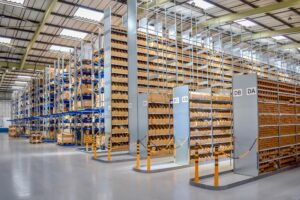 Racking and shelving are essential to the warehouse. Without it, the operation would not be able to function. But when something is so normal, how do you approach it from a fresh perspective? And how can you drive warehousing efficiencies through the intelligent deployment of racking and shelving?
BITO Storage Systems MD Edward Hutchison, believes that warehousing efficiencies can be driven through the intelligent deployment of racking and shelving: "Manual shelving–based multi-tier installations are simple and the investment amounts to a fraction of the sum required for an automated system. But, like automated storage and retrieval systems, they make good use of otherwise redundant 'airspace' in a warehouse to provide extensive storage space on a small footprint.
"A multi-tier solution may allow a company to keep its entire inventory in one area instead of operating several facilities in different locations. Creating a centralised warehouse in this way makes for easier inventory management, while also reducing overheads," he stresses.
"Different load capacities and various lengths, depths and widths of shelves give significant flexibility to store a broad and varying product range. Shelves that can be easily adjusted every 25 mm will allow the storage of a variety of sizes of products. A 40 mm high shelf will have a load capacity of up to 300 kg; low-height, 25 mm shelves, which give more storage occupancy within a given height, will be good for loads up to 150 kg."
Material gains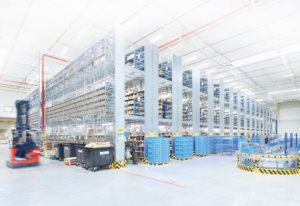 A typical multi-tier shelving installation of two or three storeys might, says Hutchinson, place a high-turnover item pick zone on the bottom tier, and put lower-turnover items higher up. He says that board or mesh floor deck walkways on the different levels can be linked to each other by stairways and/or lifts for convenient access.
"Picking operations on multi-tier installations can be further optimised with a number of transfer options such as lifts, pallet transfer positions (with a pallet gate) or spiral chutes that help optimise the workflow between order picking areas and despatch zones by gently transferring products from one level down to the next."
It's all well and good if a racking system optimises storage space, but it also needs to be able to increase efficiency in other areas of the warehouse system, such as picking.
"Integrating a multi-tier installation into a broader intralogistics solution enables efficient, valuable usage of space by indirectly multiplying the available space in the building," says Hutchinson. "In addition, since multiple tiers can be worked simultaneously, so, it also becomes possible to process significantly more orders in the same amount of time."
Shelving solutions can also aid with the sustainability initiatives of a warehouse, if utilised properly. For example, a perforated shelf will allow water and air to penetrate to give added fire protection.
"They are useful where sprinkler systems must be installed or for deep-freeze stores to ensure that goods are thoroughly cooled," says Hutchinson. "In addition, perforated shelves let light through, creating a brighter and more pleasant working environment."
Investing in proper raking and shelving solutions can save costs for a warehouse, if the materials used can effectively promote efficiency. And with the increasing demand form customers, and suppliers, warehouses need to be properly equipped to carry out picking. Racking and shelving are sometimes overlooked, but with the correct layout installed, a warehouse can dramatically increase its capacity for an ever-increasing workload.

IntraLogisteX 2020 – the UK's only intralogistics and materials handling show this year – takes place on 29th and 30th September at the Ricoh Arena, Coventry. For more details go to:  www.intralogistex.co.uk
Right place, right time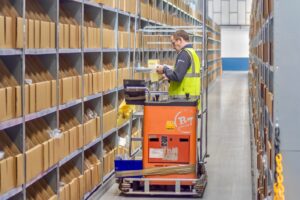 Eric Carter, solutions architect at Indigo Software, says that the Intelligent use of racking infrastructure allows businesses to make massive gains through introducing structure and discipline to the warehouse.
"The key is to ensure stocks are in right place at right time, whether that is ensuring that fast moving items are in most appropriate locations; e.g. having stocks nearer to packing areas or increasing replenishment frequencies for fast moving items," he says. "Many warehouses are using narrow aisles to maximise space and the use of pick and drop locations placed at the ends of narrow aisles allows for very rapid picking in a high product density area."
To that end, how does the warehouse manager maintain flow and accuracy with configurational versatility? Carter says that one common issue that warehouses face is how to operate an effective picking process, whilst at the same time separating replenishment tasks.
"Using live racking, a warehouse can achieve this by completing replenishment from the rear of racking using a gravity fed system and pickers can select the products they need to fulfil orders from the front. This is more efficient because there is no need to stop picking to complete replenishment and operatives can work uninterrupted whereas otherwise, replenishment would need to be undertaken during a night shift," he says.
Christian Floerkemeier, vice-president of product, chief technical officer and co-founder of barcoding firm Scandit, says: "In today's competitive business environments, fast and seamless warehouse operations are increasingly important. Intelligent use of racking and shelving will of course drive efficiencies, but the focus will increasingly shift to how innovation can drive improvements across a business.
"Globally, logistics companies are investing in emerging technologies in order to stay ahead of the game. They're working to streamline their warehouse workflows and boost supply chain efficiency with the use of technologies such as computer vision and augmented reality (AR)."

The 24th Supply Chain Excellence Awards, with new categories for 2020 including the Warehouse Initiative Award and Best Use of Robotics, Sponsored by Unipart Logistics, will take place on 12 November. For more information, including how to enter and sponsorship opportunities, contact [email protected]
Low-cost automation?
Floerkemeier says that AR can support warehouse management by encouraging the speed and accuracy of various data capture processes. For example, smart device-based barcode scanning featuring AR can enable warehouse managers and staff to easily locate, track and trace products and parcels, simplifying and improving the workflows from racking to shelving. Augment this (pun intended) with more efficient warehouse management system operations and you can mitigate backorders and errors, and achieve higher levels of customer satisfaction.
To drive further productivity gains, Yodel plans to use Scandit's MatrixScan and AR features in both this app and a new app for service centres, says Floerkemeier. "This provides the ability to scan multiple items in one go and view instructions and information as an AR-overlay, with Yodel expecting this to help speed up loading at depots and reduce the time taken to find packages in vans."
Floerkemeier says that while a fully automated warehouse remains a long-held goal for the manufacturing and logistics industry, the increased use of software, automation and smart tools is certainly a step in the right direction.
"The warehouse of the future enables companies to make operations more efficient and accurate. We're already seeing firms taking steps towards this, introducing automation, computer vision and AR onto the warehouse floor. Innovation continues to evolve rapidly, with a growing number of ways to supercharge employees involved in repetitive tasks, for example with the use of robots and drones, and wearables that give employees the convenience of hands-free working," he says.
"Much is possible today – and without huge investment," he stresses. "For instance  –  to achieve seamless racking and shelving, warehouse workers need to easily allocate and record where to place goods for rapid retrieval later. So, if an employee can use 'smart scanning' to highlight a part by simply holding a smart device across a shelf, it's easy to imagine the time-savings involved. The usual bottlenecks in receiving, sorting and stocking goods is significantly reduced as the process of ordering and delivery becomes faster, saving hours of time searching for items manually."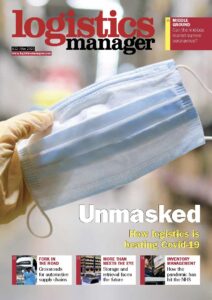 This article originally appeared in Logistics Manager May 2020.
Click here to subscribe to the print edition of Logistics Manager