Successful packaging means getting smart; in the materials used, the way items are packed and the technology tracking deliveries. But is it enough to meet the demands of environmentally-conscious customers? Michelle Mooney investigates.
In September Amazon, the world's largest e-commerce business, launched a waste reduction initiative to limit excess packaging and make sustainably manufactured products more easily accessible. As part of its 'Climate Pledge Friendly' initiative, various grocery, household, fashion, beauty, and personal electronics products, as well as items from a range of other categories, will be clearly labelled as sustainable in search results.
As part of the Climate Pledge Friendly initiative, Amazon is also starting its 'Compact by Design' programme, which identifies products that have a more efficient design. This includes the removal of excess air for products that require less packaging, making it more efficient to ship.
Meanwhile packaging manufacturer Storopack has outlined its sustainability goals in the shape of its 'Three Pillars' strategy. It is targeting, by 2025, 50% of its products manufactured in-house made from renewable or recycled materials. As of 2019, this proportion stands at 30%. Storopack is also working with organisations including Big Blue Ocean Cleanup; Alliance to End Plastic Waste and Operation Clean Sweep to prevent plastic pollution in oceans and is "continuously assessing energy management" to improve its energy consumption.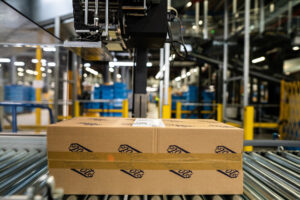 Jo Bradley, business development manager for Packaging By Quadient, says: "Consumers are now far more aware of the need for sustainable packaging and are actively calling for businesses to reduce the amount of excessive void fill, and especially single use plastic, used in packaging products.
"There is also growing consumer distress around the widespread use of oversized boxes for e-commerce orders – with void-fill such as bubble wrap and air bags, the wastefulness of materials and the high carbon-cost of transporting air. Environmentally aware consumers are increasingly choosing to buy from retailers that demonstrate their commitment to the environment."
Increasingly, suppliers are looking to automate their supply chains, not only to increase efficiency, and reduce cost, but to limit the amount of waste they produce.
"Automated packing solutions that make a bespoke box to the exact size required for an individual order – single or multiple items – can cut cardboard usage by 30% and eliminate void fill, offering a sustainable and highly efficient way forward for e-commerce businesses.
"With the right technology, an automated fit-to-size packaging solution can produce up to 1100 packages per hour, removing the need for a large labour force, numerous packing benches and all the extra space required for social distancing," adds Bradley.
Automated systems can offer a resolution in demanding times such as the Christmas peak, while also limiting excess packaging.
Smart Packaging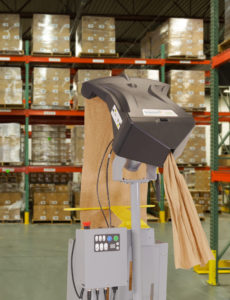 Sealed Air has expanded its packaging technology range with a series of paper void-fill and cushioning packaging machines. Eric van der Kallen, Portfolio Manager at Sealed Air, said: "Paper packaging is a fast-growing space and while we are well known for providing plastic packaging solutions, we wanted to ensure we could provide the broadest range of packaging products to suit all customers' sustainability needs."
And the way for change is being led by customers, he says; "In the rush to meet the consumer demand for sustainable packaging, we have seen some paper solutions lead to higher product damage rates, increases in overall packaging used and equipment downtime. All of these have a significant impact on a business's efficiency and environmental footprint."
Packaging firm DS Smith is working with Internet of Things vendor Hanhaa to use its ParceLive tracking technology, for the delivery of high value and sensitive goods. It does this by measuring and tracking various movements of the parcel. The conditions measured include temperature, humidity, location, and even if the parcel is dropped, tilted or opened. The data is recorded independently of the transportation method and is sent to an online platform allowing customers to understand where their products are in real-time and also the conditions and stresses each package has been placed under.
Renewable packaging
Eliot Kirby, Head of Supply Chain Innovation at DS Smith, said: "Partnering with ParceLive enables us to get real time visibility in how the packaging performs and also helps root cause any events or issues encountered." So it is not only what kind of materials are used to reduce waste, but how the materials are used to prevent damages which could write-off products. A mix of renewable packaging and digital technology could be the way forward for a more sustainable supply chain.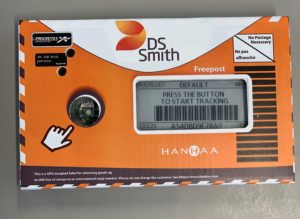 This is just one of many ways a logistics operation could reduce the amount of packaging waste it produces in its supply chain, and the change begins not only in what materials are used, but also in how items are presented, says Mark Hilton, Head of Business at Eunomia, a sustainability consultancy.
Such advancements can also come via providing better information regarding product handling in the distribution system (Hilton cites the example of shock load tracking of more delicate items ) to better understand and prevent product damages. Blockchain is another digital method that suppliers can use to limit the amount of waste they produce, and create a smarter global supply chain.
"In digital tracking of product movements and transactions, using block-chain technology, which is becoming more and more important for product stewardship / producer responsibility reasons (to reduce free-riding re. online sales and imports) and also in regard to tracking materials and materials, e.g. to verify the original source and provenance of items that claim to be sustainable, e.g. certain minerals, palm oil, fish, cotton, bamboo, recycled plastics etc."
Digital tracking in the way of "material passports" will become more common in the way the supply chain functions. Hilton explains that these certificates, will act to provide information on the sorts of chemical used in a material, and can be used by recyclers, to help better understand what to do with an item. The drive for sustainability is increasing, and will affect all aspects of the supply chain, down to almost every form of legislation. Hilton explains that creating a smarter, more efficient, and more sustainable supply chain, is important for business what are impacted by certain laws.
Increasingly, the less sustainable products and packaging, and waste in general, are being targeted in terms of higher taxes (such as UK and Italian taxed on virgin single-use plastics), and fees under EPR (extended producer responsibility). These are often known as eco-modulated fees that target less durable and recyclable items and items containing hazardous substances. Staying compliant, as well as staying savvy to meet customer and client demand, will increasingly be an imperative when it comes to the next generation of packaging and packing technologies.
This feature was originally published in the November 2020 edition of Logistics Manager.