A flurry of big warehouse deals in Ipswich has helped bolster confidence in the region among developers with FDS Corporation, Magnus Group and GMA Warehousing & Transport have all taken warehouse space in Suffolk in the last few months, writes Liza Helps.
Chinese online specialist FDS Corporation has pre-let a 144,000 sq ft at Curzon De Vere's Port One logistics park situated off Junction 52 of the A14 at Great Blakenham. Construction is due to complete in Q3 2020.
Subsequently Kennedy Wilson, advised jointly by Savills and MPAM, has let space to Suffolk based Magnus Group. The business has doubled the size of its warehouse facilities at Great Blakenham, now occupying 200,000 sq ft of good quality space.
The final deal sees GMA Warehousing & Transport taking the former 124,000 sq ft Alstons Furniture factory at Alston Park on Nacton Road in Ipswich. Savills and Nicholas Percival advised.
Chris Moody, director, commercial agency, Ipswich, Savills said: "Ipswich's popularity as a new 'go to' location for distribution and fulfilment, is continuing to grow. Companies in the logistics sector see goods arriving through the port of Felixstowe being stored in Ipswich, representing a short primary leg, before being distributed across the UK both effectively and competitively.
"It is a very exciting time for the warehouse market, with a number of new high bay facilities being constructed along the A14 corridor. These three recent lettings range from £3.00 – £6.25 per sq ft."
Off the back of this news, JAYNIC the developer of , has submitted a detailed planning application to West Suffolk Council for a second phase of warehouse units totalling 367,000 sq ft at its 114-acre scheme, which has outline planning for up to 2 million sq ft of space.
The application is for four 'Big Sheds' of 37,000 sq ft, 80,000 sq ft, 100,000 sq ft and 150,000 sq ft, respectively. This follows on from its first phase where it developed two warehouse units totalling 357,000 sq ft. The 147,000 sq ft building has been successfully let to Unipart acting as the provider for the NHS Supply Chain, and the developer is in discussions with occupiers on its second 206,000 sq ft unit.
Lack of speculative units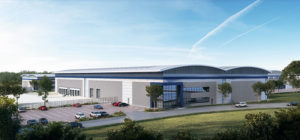 A recent report from Savills on big shed supply highlighted the lack of new speculative units in East Anglia. The report commented that: "there are no speculative units scheduled for delivery in 2019" and pointed out that the Suffolk Park units are the first speculative warehouses to be delivered in the region for over a decade.
Hazells, Bidwells and Savills are joint agents.
Curzon de Vere has two further units at its 37-acre Port One Logistics Park scheme which it intends to develop in the next 12 months. Other phases of development at Port One Logistics Park will provide additional buildings of between 50,000 and 700,000 sq ft with eaves height of 20m plus. Easy access to both east and westbound carriageways of the A14 are key feature of the site, which will be operational 24/7. Letting agent is Savills.
On the midbox front, Phillip Riddout of Savills notes: "Cambridge does not have a huge logistics presence or availability mostly due to the high cost of land (around £750,000 an acre) but there are a number of mid box schemes to facilitate service into the city."
He is marketing the last unit at M&G's Bucking Way Business Park with Bidwells. The 50,284 sq ft unit 10.5m eaves, a 50 kN/ floor loading as well as two dock and three level access doors.
In terms of land for development Stowmarket EAST is a 54-acre site, which has outline planning permission for warehouses up to 200,000 sq ft on 32 acres of business and industrial development along with a family pub / restaurant and two drive thru restaurants. It is part of a wider 195-acre commercial site that could accommodate up to 2 million sq ft of employment space. Letting agent is Carter Jonas.
This feature originally appeared in the December 2019 edition of Logistics Manager: click here to subscribe to the print edition