From optimising labour, to delivering RoI and reducing environmental impact, automation has a lot to offer retailers, even if the sands are shifting to make the same arguments. Michelle Mooney investigates.
Automation has always been a simple argument: optimising of repetitive and strenuous tasks which would otherwise require hours of manual labour from several employees. It speeds up processes, can improve profitability and reduces labour costs.
Furthermore, reducing labour costs comes at a time when logistics and warehousing operations are struggling to get in the right level of resource and personnel to carry out the packing, picking and distribution of products.
James Smith, business development and MD at AutoStore, says: "Automation solves that problem by creating a highly efficient system that moves inventory around at speed, uses space efficiently, and ensures companies can process their inventory in record time."
"Manually operated warehouses are a significant portion of the UK market where the pick rate is 50-100 picks per person per hour. In comparison, an automated system like AutoStore and the Red-line system delivers 250-300 picks per person, per hour, and this number increases with a high-speed Black-line system to 600," he says.
Automating tasks which are often prone to human error can increase quality of service, says Amir Harel, MD at Zetes: "By investing in automation, businesses will see benefits in error elimination as well as service-level increase and continuity. The same experience can be delivered to each customer as the processes are automated and enhanced through technology, overall gaining efficiency," he says.
Shrinking labour market
Craig Rollason, MD at Knapp, says that a shrinking labour market coupled with a growing demand for e-commerce is a problem: "E-commerce is driving the growth in demand for warehouse labour – because e-commerce fulfilment requires item picking and packing, as well as dealing with a higher number of returns – and yet warehousing jobs are continuing to prove unattractive to many workers, especially millennials, and the Brexit effect is clear."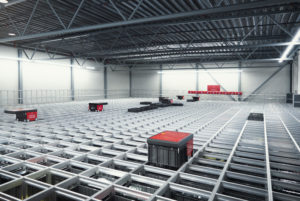 However, automating the warehouse might not eliminate members of staff, but rather, change the way those employees are using their time, to increase productivity and reduce laborious, repetitive tasks.
Zetes' Harel explains: "By implementing automated processes, it's not about eliminating staff members, but instead how we empower staff to be more productive, waste less time and maximise their usage. Automation is not necessarily a cutting headcount element, it's the operation where technology is used alongside humans to better processes with the same amount of staff."
However, the human element is also confusing the RoI case for investment in automation, sys Knapp's Rollason: "Automation has always secured the benefits of lower labour costs and fewer picking errors – and thereby fewer numbers of those costly returns. RoI calculation is on shifting sands. Creeping labour costs – driven by minimum wage regulations, rising demand for warehouse workers and yet labour shortages – are pushing the figures all the time in favour of investment in automation."
Stuart Parsons, director at BoxLogic, says: "The shift towards e-commerce has dramatically changed the ordering profiles for omnichannel retailers, where smaller and fragmented order profiles have added cost into the operation. The cost of fulfilling online orders can be up to five times more costly per unit in a manual environment than for store orders and automation is supporting businesses to take cost back out of the operations again."
Eric Rice, principal product marketing manager at Honeywell, concurs: "Traditional, manual warehouse operations no longer offer the agility required in a modern, just-in-time business environment. Even minor delays can add cost and reduce efficiency.
"Moreover, the modern customer has become accustomed to seamless e-commerce experiences. Any deviation from this level of service will result in the loss of customers to the competition."
High-value responsibilities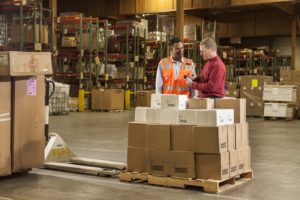 And in regards to moving staff away from repetitive, and manual-intensive tasks, Rice says, employees can spend more time on higher-value responsibilities: "Distribution centre managers can [instead] use data to ensure that faster moving products required for specific projects are correctly positioned for ease of access and collecting."
However BoxLogic's Parsons warns: "Like any investment that is to be recovered over multiple years, certainty of the design flows is critical. If the volumes fail to materialise or there is a significant change in the shape of the marketplace, then achieving the payback becomes a risk.
"Automation generally reduces the flexibility of the operation and it is important to get the design right so that it can cope under a range of scenarios including volume growth, changes to seasonal profiles, expanding product ranges or changing order profiles. Retailers undergoing rapid growth need to develop a clear expansion path so that the automated solution can grow in-line with the business."
Scott Read, head of intralogistics UK and Ireland at Siemens Digital Industries, says that its factory in Congleton, Cheshire –  which employs approximately 500 people and produces 500,000 variable speed drives which are shipped to a warehouse in Germany and then despatched around the globe  – uses digital simulation tools to maximise its RoI on investment in automation technology.
"A simulation takes all the guesswork out of the planning process and allows planning managers to assess the most effective approach in minute detail," Read explains. "In a nutshell, it allows them to put their plans to the test before investing time, money and effort. This automatically means maximum oOI on automation investment meaning that all customer demands on-time deliveries is met. Customers want exactly what they've ordered, delivered in pristine condition and on time. Give a customer an estimated date and time of delivery and they'll expect it to be met."
Read says that meeting customer expectations is, arguably, the most important factor in determining supply chain success. That means, he says, fulfilment centres, warehouses and logistics systems must sustain the same level of optimum service whether they're dealing with a steady, manageable flow of orders or a massive upsurge.
Predictive maintenance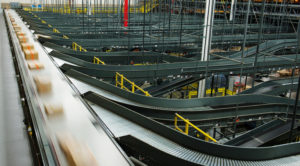 "Another crucial area is maintenance so investing in predictive maintenance helps reduce the potential for equipment failure by analysing production and performance data to identify patterns and predict issues before they impact on productivity," Read explains.
Today, growth has to be measured with its impact on the environment, and Knapp's Rollason argues that automation is paving the way for a more energy efficient future: "Software enables handling tasks to be accumulated for release in efficient batches and material flows to be optimised, thereby minimising energy usage.
"Increased order fulfilment accuracy through automated order picking secures the benefit of lower returns and innovative packaging systems that minimise space in dispatch cartons by automatically cutting boxes down to suit their contents at dispatch help to optimise space utilisation in delivery vehicles."
Zetes' Harel says: "Retailers need to address expectations of improved sustainability within the supply chain, especially when meeting consumer demands. Even the smallest of inefficiencies can add up and lead to all manner of waste during production and transport. By automating your processes with technology to offer real-time visibility and traceability into the status and condition of a product, the level of waste can be reduced by making sure it's right the first time around."
The Digital Distribution Centre of the Future
XPO Logistics and Nestle are currently building a new DC at SEGRO, East Midlands Gateway –  which it being described as the digital distribution centre of the future. Once it is running later this year, it will handle the distribution of Nestle goods, made by 11 manufacturing sites. The automation technology from Swisslog Logistics on site has been built, XPO says, to handle future demands for the next few decades and the technology used is there to help employees to do their job better, rather than replacing them.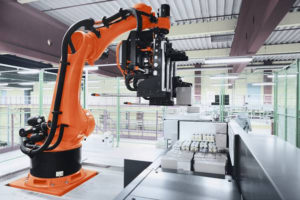 Gavin Williams, MD, supply chain – UK & Ireland at XPO Logistics, says of the 3PLs wider approach to investing in automation: "We've found the benefits in investing in automation include productivity, safety and labour optimisation. Operationally, we look to realise sustainable efficiencies that reduce costs. Finally, any technology we invest in needs to be flexible enough to handle changing customer requirements.
"Our warehouses are becoming high-tech hubs with cobots and sophisticated analytics for demand forecasting," he says, adding that, "we use machine learning to strategically place items in warehouses near the end consumers.
"Cobots and our robotic technology is delivering productivity increases of four to five times and eliminating our employees' walking time by nearly 80%. Just as importantly, it makes our employees' jobs safer and easier. And by pairing these machines with artificial intelligence, they become smarter over time, creating a new kind of warehouse."
Williams says that XPO benefits from better planning, better performance and better decision-making: "It's why we invest approximately $550 million (£421 million) annually in innovation and have a global tech organization of 1,800 professionals.
"We're also looking at robots to support our operations as technology is becoming easier to deploy, because it is modular, and you can deploy in certain areas without doing massive automation projects. The collaborative robots have helped us double productivity with picking, packing and sortation. Our robotic technology is delivering productivity increases of four to five times and eliminating our employees' walking time by nearly 80%. At the same time, they've improved safety for our warehouse employees by eliminating lifting."

For the latest automation innovations IntraLogisteX is the UK's only intralogistics show in 2020. It takes place on the 31st March and 1st April 2020 at the Ricoh Arena, Coventry. Register your interest now at www.intralogistex.co.uk
This article originally appeared in Logistics Manager February 2020.
Click here to subscribe to the print edition of Logistics Manager