Achieving sustainability throughout a supply chain could appear to be a never-ending task, and some supply chain professionals are calling for radical alterations to well-established business practices in order to make the changes required, writes Christopher Walton.  
Mark Morley, director of strategic product marketing at enterprise information management software firm OpenText, says that in today's market sustainability and ethical business are key differentiators.
"To remain competitive, leaders need to dramatically alter how their supply chains operate, including a shift away from wasteful linear models to circular models that reuse, renew and focus on responsible sourcing," he says.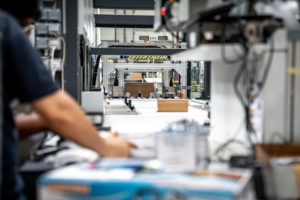 "Supply chains will need to limit waste production, as unnecessary waste will be viewed by society and consumers as unacceptable."
John Street, operations director at supply chain technology integrator Agilitas, says that organisations should consider implementing an integrated supply chain and demanding that suppliers and solution providers within their supply chain adhere to the same standards of sustainability.
"By ensuring that everyone in the chain has the same commitments to raising the standard when it comes to sustainability, it increases their ability to adjust to changing client demands. It also allows companies to react to competitors and other trends that may arise within the industry while also reducing waste and lowering costs. A sustainable chain also gives companies a competitive advantage over others in the industry, making sure they are remaining relevant to customers changing demands."
Holding yourself accountable in business practices is vital, because if sustainability isn't exacted then it is just lip service. Dan Peacock, vice-president, operations excellence at DHL Supply Chain, says that sustainability's increasing importance is reflected in stricter requirements for non-financial reporting, and a growing demand for information on the part of stakeholders.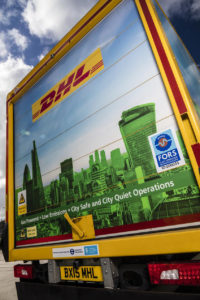 "More than a decade ago, we started paving the way for sustainable logistics by introducing various climate and environmental protection measures. Since then, we have been measuring and managing our environmental KPIs across the group through our financial systems – just as we do for revenue and EBIT – in order to effectively track the progress we are making in improving our carbon efficiency."
Peacock says that DHL is continuously working towards integrating additional sustainability indicators into its standardised reporting: "Our carbon footprint and our progress against targets are published annually as part of our Deutsche Post DHL Sustainability report. For example at the end of 2019 as a group, we had approximately 13,500 vehicles with alternative drive systems and had improved our carbon efficiency by a further two percentage points to 35% over the 2007 baseline.
"Furthermore, green electricity already meets 83% of our total electricity demands across the group and meets our requirements almost entirely in 27 countries. Through external reporting on our progress, we hold ourselves accountable for tangibly demonstrating our year on year improvements and achievement," he says.
Measuring sustainability performance also has to come hand-in-hand with market drivers. E-commerce has driven fast supply chains. One-hour delivery windows, and same-day delivery are convenient for the customer and a huge USP for e-commerce to drive sales. However, that has come at a cost, with a proliferation of goods being shipped as quickly as possible by vans around cities, by trucks up and down countries and by sea and air around the world to meet demand.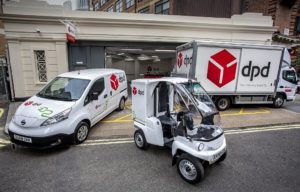 Dwain McDonald, chief executive at DPD UK, says the B2C delivery company has been looking at every aspect of its operation and is challenging itself as a business to do better; for example, by delivering emission-free in cities.
"Although this is a huge target, it starts by making small changes that can make an impact.
The key challenge for delivery companies is to try and reduce emissions and congestion in towns and cities, while still meeting the growing demand from online delivery customers.  For us that means inventing smarter urban delivery models that mean we can make fewer, shorter journeys and investing in clean, green, emission-free vehicles."
However, Ken Fleming president of transport management software firm Logistyx Technologies, is an advocate for slower logistics, which he says tend to be greener. Fleming says that while rapid delivery may be increasingly important, if the delivery involves planes or poorly filled vans, is it really sustainable?
"Within the e-commerce landscape, the demand for slower logistics services with minimal environmental impact is growing," he says.
Learn more on Logistics Manager
Logistics Manager Analysis: Sustainable materials handling and intralogistics
Logistics Manager Analysis: Sustainable sheds
Lee Thompson, sales and marketing director at fulfilmentcrowd, says: "Sustainable consumerism, and subsequent demand in the e-commerce industry, is growing at a rate of knots. 50% of online consumers say that environmental concerns shape their purchasing decisions, making sustainable product sourcing, end-of-life product disposal and even ethos a significant way for retailers to secure a competitive advantage. This further proves that sustainability and profitability are in fact mutually exclusive."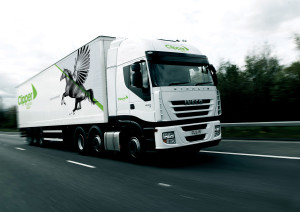 To that end Matt Trigger, account director at Clipper Logistics, says that sustainability is fast-moving up the fashion agenda, as brands and retailers come under pressure from consumers to become more transparent and reduce their impact on the environment.
"We work closely with our customers to understand their supply chain needs, with the aim of reducing their reliance on and frequency of air freighting replenishment stock, consolidating to maximise container fills to ensure transit space is optimised and reduce packaging quantities to ensure efficient flow through the supply chain," he says.
Clipper's pre-retail solutions enable it to label, hang and steam items for retailers that are shipped with maximum density from their point of origin. Trigger says that while this could be done at origin, it would have a significant impact on carton and container fills.
"Driving change in the sector, and tackling environmental initiatives is a collaborative approach across the retail spectrum," he says. "It's a truly holistic approach between ourselves, the retailers we work with and recycling specialists."
Clipper works with recycling specialists to garner an in-depth view of the recycling loop, while its specialists in sustainability and supply chains work directly with a retailer's buyers, sourcing and supply chain directors, to better understand the opportunities it has to reduce its impact.
"We implore systems-based thinking when it comes to sustainability and work hard to change behaviours in order to drive results; that seeks to not 'do the wrong things better', but focuses on not having unnecessary impacts in the first place," says Trigger. "We really focus on the unintended consequences of all our actions prior to implementation, and work to understand the impact on the overall supply chain."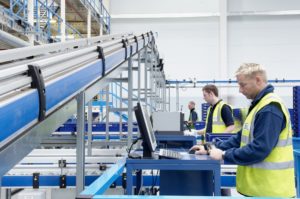 The sector the customer is in plays a huge part in their sustainable ambitions, says Steve Tainton, head of sustainability and CSR at Wincanton.
"Customers in the home delivery sector are almost certainly thinking of electric vehicles, the range of technology that is available and being developed, and impending legislation. An infrastructure company is likely to be focused on social considerations, such as noise levels, considerate construction and improving delivery to sites. Understanding the sectors our customers operate in and what the commitment is from the customer to sustainability is crucial."
For Daniele Testi, marketing and corporate communication director at ContShip Italia, it is legislation that will play a vital role in establishing long-term win-win strategy to achieve both economic growth and sustainability.
"At international and regional levels, the authorities are on the right track by putting forward the IMO 2020 sulphur regulations for shipping and the European Green Deal," he says. "However, at the local level, especially in the developed countries, apart from legislation, guidelines and commitments are equally important in promoting green logistics.
However Testi says that there is currently no structured metric evaluation that defines and evaluates environmental, social and economic costs in supply chains. This, he says, means that the benefits of sustainability and the costs of inefficient logistics – and inefficient transport solutions, such as long-distance trucking – are often underestimated.
"We hope that public policy makers will facilitate the development of a user-friendly evaluation system that helps customers and supply chain practitioners to effectively compare different transportation solutions and to measure the benefits of sustainability," he stresses.

The 24th Supply Chain Excellence Awards, with new categories for 2020 – including the sustainability Award, will take place on 12 November. For more information, including how to enter and sponsorship opportunities, contact [email protected]