Flexibility is vital for successful picking operations, so scalable systems are on the rise, writes Johanna Parsons. Even SMEs can now benefit from modular automation, collaborative picking, or even a robot rental.
There's no doubt that flexibility is a vital component of efficient order picking.  The Covid-19 pandemic has tested many operations with massive surges and sudden drops in demand for various different products and industries.
But the idea of supply chain volatility is not new. We saw fulfilment operations cast into disarray during the chaotic Black Friday of 2014. More recently, social media is influencing a trend for unpredictable retail volumes. And even the regular scaling up for the Christmas peak has become challenging due to increasing shortages of labour.  It's no surprise then that many of the order picking technologies on offer today offer flexible ways of working in order to meet the variable demands being faced.
SaaS, or software as a service, was something of a gamechanger for IT, allowing SMEs access to the high-end tech that enables world class logistics at a fraction of the price and often on an ad hoc basis. But now warehouse robots are available in the same flexible way, think RaaS or Robots as a Service.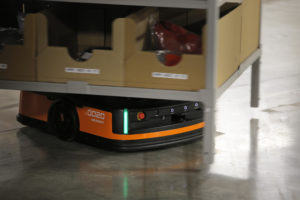 Hikrobot, for example, has just launched a range of mobile robots for intralogistics applications to the UK and Europe through Cranfield-based systems integrator Invar Systems. The robots can be taken on as part of a complete solution to provide automated transport and goods-to-person order picking operations.
Hikrobot aims to provide flexibility and scalability that allows users to start from a small base and add units as required – avoiding redundant capacity at initial installation.
Indeed, the limits of human inputs are having a considerable effect on warehouse operations.  The primary problem is simply the availability of workers, and their ability (or willingness) to work for peak periods which are limited and often now unpredictable. "Labour availability and cost is becoming a key factor and is set to increase in the coming years. e-commerce service levels are very demanding and robots will help ease the human pressure," says Phil Harrison, manager at Bearing Point.
Harrison says that addressing these issues is affecting the way DCs are set up. "Cost, flexibility and sustainability are becoming key drivers in DC design, and the solutions need to be transportable & scalable. For instance, any facility needs to be designed to accommodate growth, a change in product range, and customer ordering profiles,"
And he points out the value of flexible access to robots: "Leasing equipment during peak periods can help small businesses reduce annual operating costs and may include maintenance," says Harrison.
However, James Hendrickson, director of product and offering management at Honeywell, points out that robotics aren't always the best option. "The significance of robotics in order picking today varies greatly based on the profile of the orders being picked (standard shape and size), the existing investment in picking technologies and the availability of a workforce.  However, one thing is clear – if you can automate any part of your logistics processes you absolutely must do so (the current global pandemic and quarantine cements this fact even more firmly)."
People power
But automation does not necessarily mean eliminating human workers.  There will always be tasks people can do better than 'bots. Different pressure points at different times will require different approaches, and the flexibility of humans is difficult to beat in this regard.  "Workers excel in variable-sized orders, value added services, and in pallet building or other object recognition or object manipulation.  The introduction of robotics will also push workers up and down the value chain as firms use the savings from robotic automation to extend their reach closer to the end customers.  For example, package delivery including age verification will continue to be a challenge for robotics," says Hendrickson.
As firms add robotics, Hendrickson says that seamless integration with the human workforce becomes crucial.  "That's why technologies like voice that allow for natural interactions with both workers and robotics are incredibly important.  This lets the workers co-exist with robotics, and if firms are thoughtful in their implementations, allows the workers and the robots to perform tasks that are perfectly suited to their strengths," says Hendrickson.
The notion of humans and automated systems working together has been around for a while, but the concept of people working alongside robots is newer and still has huge potential.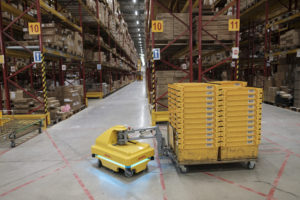 "Automation with collaborative robots is the most important physical technology to change and improve order picking applications as digitalisation gathers pace," says Marcus Wuerker, chief information officer at DHL Supply Chain UK and Ireland. "We are increasingly seeing companies combine physical equipment with support software, such as machine learning algorithms and possibly artificial intelligence, to maximize the mountain of new data created by automated technologies."
He says that over the last five years in particular DHL has seen a rise in automation in the supply chain industry.  "As technology has advanced, automation and robotic systems have become complex enough, flexible enough and smart enough to work alongside existing workforces in the warehouse. They play a significant role in eliminating many of the physical challenges faced by the workforce, creating a safer and more efficient working environment, as well helping to plug labour gaps in any hard-to-fill positions," says Weurker.
Wuerker says that in picking particularly, robotics can play a key role in times of peak activity when huge volumes of stock pass through warehouses that must be quickly and accurately picked, as well as helping to track complex inventory movements. "At DHL, we have invested in collaborative robots and have successfully used them in our co-packing and production logistics centres. Their ability to undertake a range of repetitive tasks on a variety of products and up-and-down-scalable nature helps us to respond more effectively to peaks in demand."
A firmly established style of collaborative automation is "goods-to-person" picking. One of the latest examples is Effimat which has recently taken on RARUK as its UK supplier.  This is a twist on the concept of an automated storage and retrieval system whereby its "Box Mover Technology" brings five boxes from anywhere in the system into the picking position simultaneously.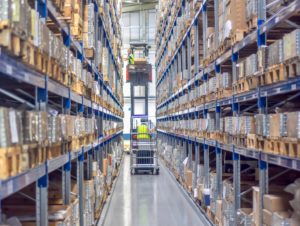 "Even though the cycle time for EffiMat is slightly longer at around 80 seconds, efficiency is still many times greater due to presentation of five boxes per cycle. In fact, up to 250 boxes/picks per hour can be achieved. Boxes can also be sub-divided, introducing even greater efficiency," says Andrew Mason, automation sales manager at RARUK.
Ergonomic benefits
Edward Hutchison, managing director at BITO Storage Systems, espouses the virtues of the opposite route to flexibility. "A wide variety of forms of order picking technology exist today, though many companies work with a mix of automated and manual order picking. The 'person-to-goods' principle remains the most common method. This has the clear flexibility advantage, thanks to the ability of people to adapt to constantly changing systems. Goods are provided in static shelves and orders are compiled by means of a pick list."
He points out that human error is influenced by environment, and he says that consolidating items into "carton live" storage, with conveyor type rollers to allow movement within the racking will reduce distances between pick locations. "These very compact storage systems can be built on a small area. Due to the inclination of the rollers, the stored goods are automatically transported from the loading side to the pick face. It allows multiple pick locations on a minimal footprint," says Hutchison.
Jonathon Buckby, solutions manager at SSI Schaefer, advocates the benefits of zone picking as a flexible system. "Zone picks reduce the number of SKUs any individual picker must manage. Each picker can claim greater responsibility in an area, improving their productivity. We also know that walking time in a pick operation is wasted time. By limiting the area covered, less time is spent walking and more time picking. This not only improves a picker efficiency but also provides ergonomic benefits."
Another benefit of a zone pick system is the ability to ramp up and down to meet with peaks, says Buckby. "With a zone pick, it's very easy for operatives to increase or decrease zone size at any given time. Pickers can man multiple stations during quieter times to help match up throughput with headcount figures and prevent excess labour costs."
He explains that many zone picks from SSI Schaefer include a pick-by-light system, which could be described as a collaborative style of automation.  "Once an order appears at a zone pick station, the required SKUs and quantities are identified using a light system. As a picker goes through and picks each line, they confirm it has been completed with the press of a button. Again this provides an efficiency benefit by reducing search time looking for the correct SKU. More importantly it can greatly reduce picking errors by giving clear guidance."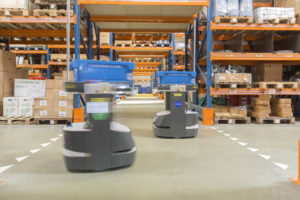 DHL's Wuerker certainly sees robotic developments as key in strengthening flexibility.  "The invention of flexible goods-to-person robots with swarm intelligence will help us achieve productivity gains while keeping the flexibility we need for ever-changing stock demands. This was not possible with the static, fully automated warehouses of the last 20 years."
He describes developments in the application of sensor technology which have facilitated the operation of robot arms and robotic transport in closer collaboration with colleagues.  "A pick and place robot would previously have operated inside a cage to give protection to colleagues working in the operation, whereas today, such robots can have integrated sensors that allow safe operation with colleagues working alongside them."
This extra level of safety that has effectively un-caged the robots has also unleashed exciting working methods, from swarm droids roaming warehouses to heavier duty stuff. "Materials handling equipment such as low-level order pickers are also enhanced now with sensors to automatically move forward alongside pickers to increase their productivity.  In addition to moving goods, AGVs are being adapted to carry out other routine warehouse functions such as cleaning, pallet wrapping and inventory checking," says Weurker.
If robotics aren't always the answer, they are certainly a compelling proposition.  For Wuerker the promise is irresistible. "Robotics have the potential to totally change the order picking process in coming years, from the way we approach picking briefs, to the performance levels we can achieve."
As we face down the unprecedented challenges of Covid-19, picking operations have never been better equipped to enhance efficiency and smooth volatility. There are a huge variety of technologies offering flexible systems and making exciting new ways of working accessible to more businesses than ever. But with such a huge variety on offer, the challenge is picking the right solution.
40% more accuracy for Aliaxis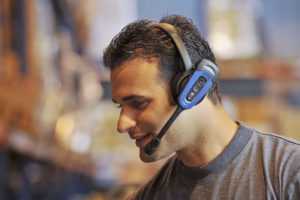 Aliaxis makes and distributes plastic piping systems from its factory in Kent, England. It delivers products from factory to warehouse, through order picking and fulfilment to the final delivery to customers.
Aliaxis decided to upgrade its paper-based process with a fully-automated system that would: improve the picking, consolidation and loading; integrate with Aliaxis' Microsoft Dynamics WMS; help reduce human error and increase traceability; and allow reliable ePod to improve customer satisfaction levels.
The firm decided to take on a voice-based data capture and electric point of delivery scanning solution from Honeywell/BEC (Systems Integration).
The picking, consolidation, and fulfilment system included BEC eSmart Honeywell-based Voice Solution running on Honeywell A710 Talkman devices coupled with SRX2 cordless headsets. Each device is equipped with a unique location identifier allowing the workforce to receive instructions via the speech recognition headsets.  This controls picking of the correct items in the warehouse and in the yard where large items are stored. Picked items are also scanned for order completion on delivery vehicles.
For ePod they took the Honeywell CT50 mobile computers, used in the vehicle cab for tracking and delivery of orders including signature capture.
The eSmart Voice software working in conjunction with eSmart ePod manages the entire process, from pick to delivery, which includes dashboards for easy reporting and process management.
So far Aliaxis has found that there has been a 40% improvement in consignments and deliveries that are accurate the first time. Overall there has been 34% reduction in queries from customers and an 80% reduction in complaints regarding shortages. Plans are being made to expand the process to their Scottish division
Flexible running for ASICS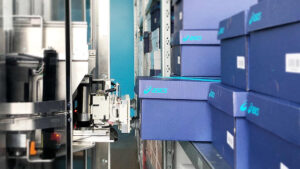 Running shoe-maker ASICS has taken on a flexible automation system for picking shoes at its European DC in Krefeld, Germany.
The mobile picking robot TORU, from robotics firm Magazino, works autonomously but alongside humans, with the help of 3D-camera technology and numerous sensors.
With its vacuum gripper, TORU grasps individual shoe boxes from the shelving system, transports them to the handover station and also stows returns. The robot is connected to ASICS' WMS as well as a cloud from Magazino. Using artificial intelligence, TORU learns from its experiences, improves performance, and shares its knowledge with robot colleagues in the fleet.
Michael Gryszko-Prattes, head of EDC, says: "With the Magazino robots, we can not only cover the increasing order volume better and ensure our flexibility in automation, but also support our EDC staff in the fast storage and retrieval of orders — especially for very small orders. We also see the TORU robot as an opportunity to become even better in terms of speed, quality assurance, same-day order processing and overnight picking".
TORU was integrated into the existing warehouse environment in Krefeld without any modifications necessary. TORU can relieve the employees of less ergonomic tasks, for example when picking from the bottom or top shelf or from particularly long walking distances in the warehouse.

IntraLogisteX 2020 – the UK's only intralogistics and materials handling show this year – takes place on 29th and 30th September at the Ricoh Arena, Coventry. For more details go to:  www.intralogistex.co.uk