A decreasing labour pool, increasing levels of e-commerce and a desire for high storage utilisation in the warehouse means articulated forklifts are in demand. Michelle Mooney investigates the highs and lows of forklift articulation and strips apart the features of Very Narrow Aisle (VNA) trucks.
The articulation of forklifts means optimising their size, making them more streamline, easier to fit through narrow aisles, and simply making them capable of bending into smaller gaps than a standard forklift would be able to fit into.
John Maguire, MD at Narrow Aisle, has noticed a growing trend from customers wanting more efficient models: "Warehouse operators want to store to ever greater heights and demand machines that are capable of picking and putting away pallets at height safely and cost efficiently."
That's where narrow aisle forklifts come in: "The obvious benefit of narrow aisle technology is the fact that it maximises the pallet storage capacity of the building," he says. This means that warehouses can limit excess space by introducing more pallets to their warehouses, because a smaller, more streamline vehicle can squeeze through those gaps.
Maguire continues: "The Flexi AC 1200 increases usable storage space by between 25-50 per cent. And, because – like all models in the Flexi range – it is able to load and unload lorries from the side or from a dock and then deliver pallets directly to the pallet storage in a single operation, it eliminates double handling of loads and the need to operate a counterbalanced machine outside and a reach truck inside the store."
Maximising cube space
Paul Berrow, MD at Translift Bendi, says: "There is so much uncertainty around at the moment that companies are looking to utilise existing warehouses and facilities in maximising the cube space. This has led to an increase in enquiries, not only from companies wanting to move from more conventional materials handling equipment to articulated forklifts but also from companies who already have articulated forklifts but want to increase storage capacity even more."
To this end this is where the Bendi DR Deep Reach Articulated Forklift is proving popular he says. The Bendi B40AC-DR / B50AC-DR with an integral pantograph can stack loads two deep in narrow aisles and has a basic lift capacity of 1100kgs at 600 mm and with lift heights available up to 11m. The model is a four-wheel articulating forklift with dual, independently driven rear-drive tyres and soft-poly front load tyres.
Berrow also says that forklift operators are also looking for more robust models for increasing workloads: "Apart from applications where the Bendi DR Deep Reach maybe suitable, we are also well aware that companies are looking for higher performance and more robust machines capable of lifting higher and working longer or extended shifts."
To that end Narrow Aisle' Maguire concurs, explain that warehouse operators want to store to ever greater heights and demand machines that are capable of picking and putting away pallets at height safely and cost efficiently.
"Traditionally, the man-up VNA was a market leading vehicle, but these days, it is widely accepted that there are significant drawbacks to having a man order picking some way above the ground," he says.
"For example, because man-up Combi VNA trucks are physically big pieces of kit, storage schemes have to incorporate large gangways at both ends of each aisle to allow the trucks to switch aisles. This often means that the space savings achieved by the man-up machine's ability to operate in impressively narrow aisles can be lost."
Cost saving through space saving
This could also lead to major costs for a company, he says, as they cannot store as much and might not be able to keep up with order demands.
There are other cost savings to be had: "With their ability to operate in aisleways as narrow as 1.6 meters, articulate to 220 degrees and lift pallet loads up to heights of over 14 meters, Flexis can save warehouse operators at least 30 per cent of their storage costs."
Another problem that could arise with larger machines is that of safety, as Maguire outlines: "Reaching out from a fixed cab to a pick carton placed on pallet some distance away is not ergonomic or efficient and a man-up Combi VNA truck operator who is working, say, 10 metres in the air, will often struggle to notice another order picker working at ground level in the same aisle."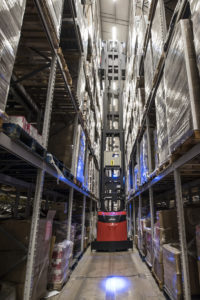 Clearly no vendor wants to compromise on safety says Mike Hawkins, head of Linde logistics solutions for Linde Material Handling: "Our Aisle Safety Assistant (ASA) allows truck speeds, lift heights and aisle widths to be set for each individual aisle. The ability to tailor truck features gives the handler more freedom and flexibility, which in turn improves safety."
Hawkins goes on to say that the "Rescue Alarm" function provides additional security by detecting lack of movement in the truck cab and alerting colleagues should any issue occur while the operator is working at height.
However, Hawkins says, there are a combination of factors driving market adoption: "Certainly, there is a continued concern in the marketplace regarding the available labour working pool," he states, adding that "the impact of e-commerce on the requirement for increased picking activity means our customers are constantly looking at ways to increase both safety and efficiency."
Storage utilisation concerns
Property development concerns are also driving articulated forklift adoption: "With the cost of land becoming ever more expensive the desire for high storage utilisation has led to increased storage build heights.  Many new build applications now have clear usable space in excess of 20m. To cope with these heights, we now have a standard VNA truck which will lift in excess of 18m."
Maguire, of Narrow Aisle outlines other cost-effective benefits of an articulated forklift, such as the ability to unload pallets from road vehicles or marshalling areas and deliver loads directly to the VNA storage racks, which can reduce double handling costs by a further 50 per cent."
The reduction in cost due to more slimline forklifts, could allow a company to spend more money on other areas in the warehouse, and lead to increased profitability. and with so many choices, a customer can find their perfect match to further increase efficiency, as Hawkins from Linde points out: "The infinite choice of modules means that a custom-built match can be found based on the customer's needs, with lift heights up to 18m to allow for the increased racking heights demanded by customers in the UK."

You can see Linde, and many more exhibitors, at Intralogistics 2020. The show takes place at the Ricoh Arena on 31 March and 1 April. Register your interest now at www.intralogistex.co.uk