The December 2019 issue of Logistics Manager is out now in print, online as well as for the iPad and Android.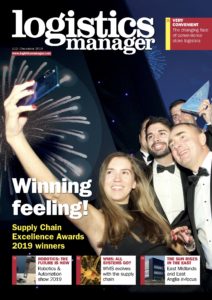 Cover story: Winning feeling!
Discover what success looks like and meet the Supply Chain Excellence Awards 2019 winners in a bumper issue.
Retail: Convenience
Convenience isn't easy… the competition in convenience retail is tough and it is inspiring a re-think of replenishment logistics.
Forklift trucks: Articulated trucks
High warehouse utilisation means articulated forklifts are in demand.
IT: all systems are go?
Personalisation is putting even more pressure on the warehouse. Discover how warehouse management systems are reacting.
Regional Focus: East Midlands and East Anglia
Can both regions continue to go from strength to strength?
Urban Warehousing
Urban sheds are hot property, and the unsung heroes of last-mile logistics.
---
Click here to subscribe to the print edition of Logistics Manager