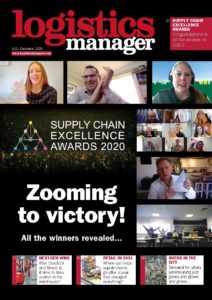 The December 2020 issue of Logistics Manager Magazine is now available to read online!
Cover Story; Supply Chain Excellence Awards 2020!
'Zooming to Victory'
A virtual ceremony saw the supply chain industry mark its incredible achievements in 2020… all from a socially safe distance.
Supply Chain Excellence Awards winners; 'It feels amazing.' 
Discover who the winners were with our exclusive profiles, see pictures, from the ceremony, and find out what it means to win a Supply Chain Excellence Award; directly from the winners themselves.
Next Generation WMS; Better decision making….
Is there really such a thing as the 'next generation of WMS? And if so, what will it deliver for warehouse managers, logistics operations, and the supply chain?
Retail in 2021; Unpredictable and uncertain retail braces for 2021
We all know why 2020 has not been a normal year…. especially in the retail sector. But what with the impact of systematic changes e on retail in 2021? And how have retailers and logistics managers coped with this historic and unprecedented change?
Property; Regional and National
And much more…..