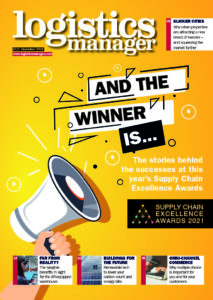 The December 2021 edition of Logistics Manager magazine is now available to read online!
Cover Story: The 2021 Supply Chain Excellence Awards
Logistics Manager reviews the winning projects and collaborations from this year's industry-leading accolades
Augmented reality in supply chains
From improving efficiency and cutting costs to enhancing training efficacy and worker collaboration, AR appears to be a warehouse winner. But, asks Maria Highland, does it deliver?
Green Credentials: Green thinking
Michelle Mooney looks at some of the renewable technologies you can retrofit into your warehouse to meet not only your sustainability goals but also reduce costs and improve your bottom line
Sector Repot: Omni-channel retail 
Lockdowns and the flexibility of omni-channel retail has seen online services flourish over the past 18 months, with on-demand delivery now the norm. Michelle Mooney explores why supply chains form the backbone of every omni-channel distribution service
Property: Is the juice worth the (urban) squeeze?
Can intensification satisfy last-mile fulfilment demand? Liza Helps investigates