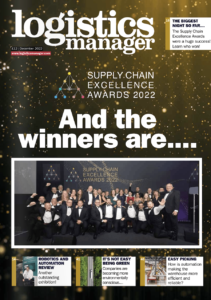 The December issue of Logistics Manager is out now!
Cover story; A dazzling night….
The winners are here! Wow! What an amazing night of glamour and innovation; the Supply Chain Excellence Awards were huge this year, and in this Awards special issue will unveil our winners!
Robotics and Automation review; High Five!
Logistics Manager highlights the successes of the recent robotics exhibition show!
Inside innovations; Green logistics; It's not easy being green
The supply chain is seeing drastic change, and this will mean that supply chain managers will need to fully commit to reducing emissions….
Inside innovations; Cold chain; It's a cold world out there….
The role of the cold chain is essential. But just how are these companies coping with financial, operational, and environmental pressures?
Property; Mid box; All that glitters….
The property market is facing a lot of uncertainty, yet, the sector continues to power through; find out what's going on….