The March 2020 issue of Logistics Manager is out now in print, online as well as for the iPad and Android.
Cover Story: Big data, big decisions…
As part of our March 2020 Supply Chain special we evaluate the future of Sales & Operational Planning and the role Artificial Intelligence and machine-learning will play.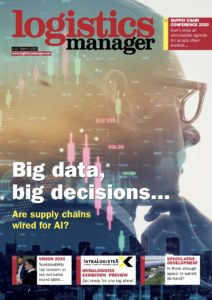 ERP: I want it all, and I want it now!
Could artificial intelligence break the data paralysis trap?
Conference Preview: Serious Supply Chain thinking
The Supply Chain Conference 2020 takes place on 17 and 18 March…
Supply Chain Excellence Awards 2019: Meet the Winners
Warehouse Innovation winners: Rolls-Royce and CEVA Logistics
The DP World Award for Retail Innovation winners: Wickes with Wincanton
Sector Focus: Retail – E-Commerce
I want it that way… personalisation may deliver value for supply chains.
Vision 2020 roundtable
Our expert panel of industry leaders envision the future of logistics…
Property: Spec development
Speculate to accumulate… will there be enough space to satisfy demand this year?
Property: Regional Focus on M25 East and London
Are buyers looking further east as pressure on land supply continues?
IntraLogisteX Exhibition Preview
IntraLogisteX is back and better than ever! Read our exclusive preview of the only intralogistics exhibition in the UK in 2020, featuring over 130 exhibitors who will be at the Ricoh Arena, Coventry, on 31 March and 1 April.
Plan your visit to this years show, discover the technology on display and make sure you don't miss out on the biggest line-up of materials handling and intralogistics equipment providers all under on roof. From packaging to picking and sortation; automation to software solutions; transport management to warehouse management IntraLogisteX 2020 has it covered.
Automation and Innovation Conference and the IntraLogisteX Conference Preview
At IntraLogisteX 2020 there are two unmissable conference programmes running consecutively across both days of the show. The Automation and Innovation Conference includes Day One speakers from Geek+; Clipper Logistics; CocaCola; Best Food Logistics and Wincanton while Day Two includes DHL Supply Chain; the RHA; SwissLog; Locus Robots; Boots and the FTA. The two-day IntraLogisteX Conference includes speakers from Lucas System; Board; Calor; Sage UK; Oxspring; OW Robots; BluJay Solutions; Aurora Lighting; Attensi and 6 River Systems.
---
Click here to subscribe to the print edition of Logistics Manager