The October issue of Logistics Manager is out now in print, online as well as for the iPad and Android.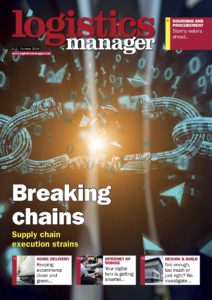 Cover story: Breaking chains 
Supply chain execution could transform the industry, but without proper integration it may never be truly exploited. We investigate why connecting IT systems is crucial, and explore the technologies driving changes in the market.
Retail: Home Delivery – Going Green
Retailers are always looking to make home deliveries easier and faster, but could environmentally-savvy consumers change the face of e-commerce?
Forklift technologies: Finding the spark
What technologies can keep forklift fleets working at optimal capacity?
Property
Design & Build: At your service
There has been less D&B activity this year – what does it mean for occupiers?
West Midlands – The Big Issue
There isn't enough land to satisfy demand.
Supply Chain Special
Sourcing & procurement: deal or no deal
The nature and structure of automated sortation is shifting, opening up wider access to the technology.
Internet of things – Big data's bleeding edge
The way Big Data is being used is changing and transforming supply chain management along with it.
As seen at ASOS
Our retail market specialist Penelope Ody on the battle retailers face to cope with demand.
---
Click here to subscribe to the print edition of Logistics Manager