The logistics and supply chain sectors have called on the newly elected Conservative government to face up to the challenges the industry faces – including Brexit, skills and the environment.

Richard Burnett, Road Haulage Association chief executive, said:  "Over the past three years we have highlighted the risks and impacts of whatever Brexit approach is taken. Enough time to implement and transition to any new arrangements for customs, lorry access regulations and labour is essential to maintain the UK's supply chains.
"It is imperative to ensure that investment in vehicles and infrastructure is supported – with standards to drive change being introduced in line with vehicle and infrastructure life-cycles."
Burnett also called on the new government to reform the Apprenticeship Levy. "The current system is not working for our industry and uptake amongst our members is minimal. As things stand, our industry has paid in over £300m while only being able to draw down approximately £20m.
"There are other challenges too as we look to address a widespread shortage of safe and secure parking facilities for our vehicles and drivers, higher fuel prices than our EU competitors and poorly maintained roads across the UK," he said.
Melanie Leech CBE, chief executive of the British Property Federation, said: "Our country faces huge challenges that the property industry is uniquely placed to help tackle, be it delivering more homes and better places, supporting our town centres, spreading prosperity through our regions or creating a clear roadmap to creating a net-zero built environment.
"We hope the prime minister will listen and grasp the opportunity with both hands."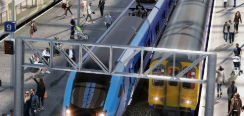 Transport for the North has also urged the new government to focus on improving transport and creating more opportunities.
Barry White, Transport for the North's chief executive said: "The North has been a key battle ground in this election, with pledges made on improving our transport and creating opportunities. Now is the time to advance that Northern agenda in the national interest. The Prime Minister must now deliver.
"Tackling the challenge of making our networks greener and more inclusive, will be critical in the coming months and years."
John Perry, MD of supply chain and logistics consultancy SCALA, said: "While the clear Conservative victory will set the wheels of Boris Johnson's withdrawal agreement in motion, many of the details still remain undecided.
"Of particular concern are the potential implications of Johnson's Northern Ireland protocol.
"Border controls and customs processes for goods moving from Great Britain to Northern Ireland are yet to be defined, and there are worries that the proposed arrangements as currently constructed will cause considerable friction.
"As a result, doubts have also been raised over the feasibility of implementing the protocol Johnson's self-imposed December 2020 deadline."