One of the world's largest container ships arrived at the DP World London Gateway Port on Saturday, carrying with it a record load of 18,601 TEU.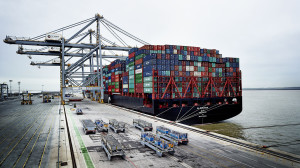 Al Muraykh, which is owned by the United Arab Shipping Company (UASC), measures 400 metres in length and can carry up to 18,800 containers. Travelling from Malaysia, the ship unloaded 3,800 containers at the London Gateway Port.
The ship's size and capability in transporting large volumes to the UK means that the 'average CO2 output dropped 60 per cent less than normal,' leading to the vessel being dubbed the "greenest vessel" on the planet by UASC's chief operating officer.
"We are extremely proud to have achieved a world record breaking load on board Al Muraykh, the greenest vessel in the world and one of the largest in operation today," said Waleed Al Dawood, chief operating officer at UASC. "Moreover, this voyage marks a very important milestone in our newbuilding and environmental sustainability program with this being the highest utilization of our 18,800 TEU eco-efficient class to date."
Simon Moore, CEO at DP World London Gateway, said: "This ship demonstrates the port can take any vessel afloat and provide world class services to carriers. We are now focused on providing this world class service to cargo owners as cargo is collected. Trucks picking up containers are able to pick up faster and safer than ever before."