The April 2016 issue of Logistics Manager is out now on iPad and Android, as well as in print.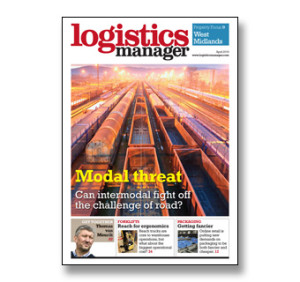 Cover Story: Modal threat
Can intermodal operators respond to the challenge of cheaper fuel for road haulage?
Packaging: Not only fancier…
The growth of online retail is putting pressure is on packaging to do more than ever before.
Conference preview: Strengthening the supply chain
A host of industry leaders will be exploring ways in which to improve and strengthen the supply chain at the logistics and supply chain conference 2016.
Commercial vehicles: All change in the CV market
The commercial vehicle market is seeing some structural changes driven by developments such as online shopping. We examine the developments and suggest some highlights to look out for at the forthcoming CV Show.
West Midlands: Too hot to handle
What opportunities are there for occupiers in a market where demand is soaring but availability is in short supply?
Information technology: Time to be demanding
Today's supply chains have developed into sophisticated networks that can all to easily crumble if not enough care is taken. One area where this could prove an issue is in demand management.
Forklifts: Reach for ergonomics
Reach trucks are vital for operations using high density storage in the warehouse. But what about their biggest operational cost – the operator?
Air, sea and rail: A new dawn
Are changes to the supply chain model bringing multi-modal logistics warehousing to the fore?
---

Click here to subscribe to the print edition of Logistics Manager