The March 2017 edition of Logistics Manager is now out in print and online. It is also available on iPad and Android.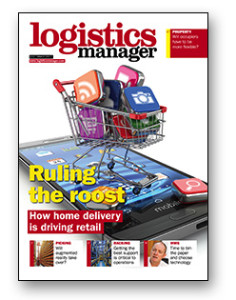 Cover story: Ruling the roost
There is no secret to increasing online retail sales – just make the process quicker and cheaper and easier. And there's the rub: achieving those objective is far from trivial…
Order picking: A smarter future
Will augmented reality revolutionise the future of order picking? We take an in-depth look at smart glasses and their place in the market…
IntralogisteX: Show time at the Ricoh
It's just a couple of week until the IntraLogisteX exhibition opens at the Ricoh Arena in Coventry. Here is our guide to who is going to be there and what will be on show…
Warehouse management: Time to bin the paper
Are you at the cutting edge using artificial intelligence, robots and the internet of things – or does your warehouse still rely on pen and paper? Perhaps it's time to re-evaluate the technology used to manage your inventory…
Logistics & Supply Chain: Learn from the best
The Logistics & Supply Chain Conference 2017 promises to deliver valuable insight from supply chain leaders, including winners from the Supply Chain Excellence Awards…
Racking: Are you getting the right support?
How available warehouse space is used determines warehouse efficiency, and failing to ensure this can have a significant impact on profit margins…
Awards: The search is on
Have you got what it takes to compete with the best supply chains? It's time to find out with the Supply Chain Excellence Awards 2017…
Property: How do you solve a problem like availability?
Demand is at an unprecedented high and supply is dropping rapidly – can developers solve the problem?
---
Click here to subscribe to the print edition of Logistics Manager