The May 2016 issue of Logistics Manager is out now on iPad and Android, as well as in print.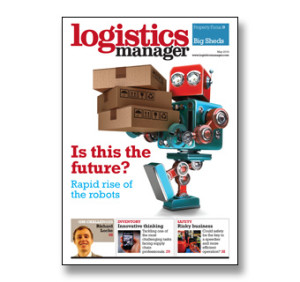 Cover Story: Are robots really ready to take over?
Logistics operations have seen a steady growth in the use of automation, and we are starting to see robots becoming available. But, how long will it be before they make a real impact?
What's in store?
Choose the right storage and retrieval system and it could provide a real competitive advantage. Get it wrong and the results hardly bears thinking about – and the choices are not easy.
Light leasing
Vehicle procurement in logistics is changing. But is contract hire still the dominant force in the market? Or are lighter rental agreements piquing more interest?
Inventory innovation
Inventory management and optimisation is once of the most challenging tasks facing supply chain professionals.  So what does it take to get it right?
Risky business
Safety is so easily overlooked in the workplace – but could it be the key to a speedier and more efficient operation?
Fit for the future
All eyes were fixed firmly on the future of supply chain and logistics when industry leaders gathered at London's Waldorf Hotel for the Logistics and Supply chain Conference last month.
Big Sheds: Space, the final frontier
Is there really a shortage of warehouse space for logistics?
East Midlands: Doom and boom
With available space in short supply, the East Midlands is looking for speculative development to meet demand.
The Chinese trucks with a European flavour
There is a new player in the European materials handling market. Lisa Townshend travelled to China to see what makes the technology behind BYD a game changer for forklifts.
---

Click here to subscribe to the print edition of Logistics Manager