Robotics & Automation takes place at the Ricoh Arena on 3rd & 4th November 2020 at the Ricoh Arena!
Robotics in logistics : the essential guide to a new breed of workmate, is out now.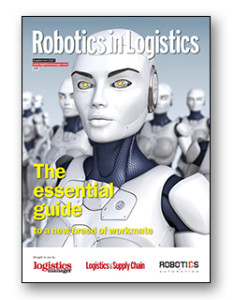 Autonomous delivery: Saved by the machines
Urban spaces are battling pollution and overcrowding, while the city's consumers demand impeccable deliveries. Logistics needs a saviour; will robots come to the rescue?
Robots in retail: Shopping with droids
Omni-channel retail demands the very latest logistics technology. But where does automation end and robotics begin?
Robots through time
A timeline exploring the history of robotics.
Artificial intelligence: Beyond the armour
Artificial intelligence, the buzzword of today, seems to be finding its footing online and in customer service – but what can it do for the supply chain?
Top developments: A new breed of workmate
Robots are already being used in cutting edge logistics operations, and will become mainstream in only a few years. But where are they likely to make the biggest impact?
Industry leaders: The big picture
Logistics Manager talks to industry leaders in the robotics market to find out what developments are happening for the customer, the robot manufacturer, the automation company and the start-up.
If you would like a copy of the robotics supplement, please contact Stephen Brooks: Stephen.brooks@akabomedia.co.uk