Losses at Eddie Stobart Logistics widened to more than £200 million, despite a 9% increase in turnover, as the group published details of its financial performance during a turbulent 2019.
For financial year 2019 the company made a pre-tax loss  of £238.9m, compared to a pre-tax loss of £22.3 million in its restated financial year in 2018.
Turnover for the twelve months ended 30 November 2019 grew 9.7% to £857.1 million, compared to £781.5 million in its restated 2018 financial year.
Stobart said that this was primarily due to a full year contribution from its June 2018 acquisition of pallet network TPN.  Excluding TPN, like-for-like turnover was flat, reflecting the exit from what it described as two underperforming contracts, one in retail and one in manufacturing, industrial and bulk.
The 3PL had suspended trading of its shares in August 2019 after it posted a profit warning. This was followed by an aborted takeover attempt by fellow 3PL Wincanton. In December its shareholders backed an injection of cash from DouglasBay Capital, which acquired a 51% stake in the company.
Eddie Stobart Logistics, now 51% owned by private-equity funders DBAY, also paid £10 million to Eddie Stobart Group for the Eddie Stobart brand.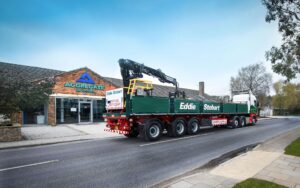 William Stobart, executive chairman of Eddie Stobart Group, said:"The Eddie Stobart brand is an iconic name, linked to our core values, that should be part of the business. The acquisition will also deliver significant future cost savings and it will allow us to continue to grow brand awareness throughout the UK and Europe."
In regards to the impact of Covid-19 on the business the group stated that while there had been some volume reductions in parts of the business, it had benefited from fast-moving consumer and grocery goods, whole volumes in its e-commerce related activities remained strong.
"The safety and wellbeing of our employees is paramount to us," said Stobart.
"The majority of our employees are front-line key workers delivering essential goods and providing a critical service across the UK. We are all extremely proud of the professionalism and continued dedication of our workforce, delivering a strong performance for both existing and new customers throughout this challenging period."