The Logistics and Supply Chain Conference is less than a week away! The future of supply chain will come under scrutiny at the two-day event, which takes place on 19th and 20th April.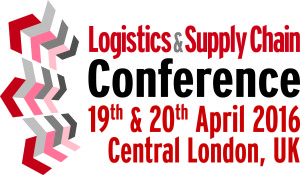 Professor Richard Wilding OBE will be asking the question: have you got the skills to be a supply chain director? Wilding will analyse the skills and knowledge employers look for in a supply chain director, looking at both the "Technical Supply Chain" Intelligence (IQ) and "Relational Supply Chain" Intelligence (EQ).
There will be a host of industry leaders discussing processes and challenges in the supply chain, including Richard Locke, head of general merchandising and analytics at Ocado, who will be talking channel management in the supply chain. He will look specifically at the last mile, the environment, set delivery times and training.
Mark Gaw, head of supply control at Booths, the high end supermarket chain and winner of the technology category at the European Supply Chain Excellence Awards 2015. Gaw will analyse how to improve and strengthen the supply chain by using technology.
Diageo will be represented by Paula Sheils-Ryan, the consumer goods company's demand planning development manager. She will be talking about how important good training, support and progressing in the future is. Spirit Pub Company, who won last year's Environmental Improvement category, will be focussing on sustainable standards at the conference, which takes place on 19th and 20th April 2016 in Central London.
Other speakers at the event include Carlsberg supply chain academy director Neil Bales, who will discuss the importance of people and sales and operation planning. Lego's operations director Calum Lewis will ask the question: how accurate is forecasting, and how can it help manage the inventory and control costs?
Debenhams, Nestlé, and the Co-operative, as well as many others, will also be speaking at the conference.
The Logistics and Supply Chain Conference takes place on 19th and 20th April 2016 at The Waldorf Hilton in Aldwych, Central London.
Full details at: www.logisticsandsupplychainconference.co.uk
* And on 21st April, Professor Wilding will be following that by celebrating European Supply Chain Day 2016 with a Q&A session live on Twitter.
The session will be live on Twitter between 12 and 1pm. All those thinking of taking part are encouraged to tweet directly to Richard using @SupplyChainProf and to join in with the day's events by using hashtag #supplychainday.