Major retailer secures £100m pre-let at Symmetry Park
Property developer db symmetry is to pre-let a 1.5 million sq ft logistics facility at Symmetry Park, Darlington on a 20-year lease to a major retailer.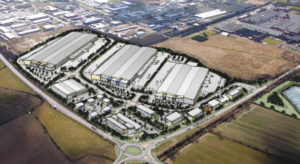 The retailer will occupy 40 acres of land for a fulfilment centre and the remaining 37 acres will be available for further development. The total development cost is in excess £100million is to be forward funded by Tritax Big Box REIT.
"With the deal now signed, we will look to appoint a contractor in the coming weeks and are planning to start on site imminently," said db symmetry development director Simon Dixon. "We will be also seeking to gain outline planning consent for approximately 550,000 sq. ft on the remaining 37-acres."