Manchester Metropolitan University (MMU) researchers have developed a new computing programme designed to help logistics companies calculate the best routes and times to send vehicles out onto the road.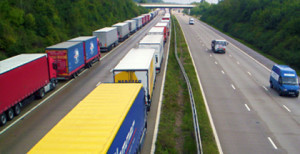 MMU is now working alongside ServicePower Technologies, an IT company specialising in providing software for logistics.
"The new optimisation technique promises to plan future services – reducing time to deliver – thereby growing sales and reducing operational costs and improving customer service levels," said Dr Crispin, principal lecturer in the School of Computing, Mathematics and Digital Technology.
"It's an emerging technology we're using and we've had to undertake numerous computational experiments to prove the technique. We're working on expanding the research with ServicePower to make this applicable to the real-world market and to be used in business.
"This type of technology can have lots of applications for firms and solve a range of scheduling problems, including employee timetabling."
Applications for three patents have been made by ServicePower.