Logistics Manager is getting to know the exhibitors at this year's IntraLogisteX as the industry's biggest, best-attended and only annual intralogistics showcase returns to the CBS Arena in Coventry at the end of March
If you want to put a face to a name before venturing up to IntraLogisteX on 29th and 30th March 2022, Carlos Villafane is ProGlove's UK Country Manager and will be on the company's exhibition booth (Stand 926) to discuss the efficiency gains that can be achieved from using the company's wearable warehouse technologies.
"Many of our customers report efficiency gains of up to 20%," Villafane begins. "Our wearable scanners can save up to six seconds a scan, which often cuts the total scanning time in half. Additionally, our instant worker feedback helps avoid up to 33% of the common picking errors. Finally, the lightweight nature of our 'MARK' scanners can account for an incredible weight relief. In high-frequency scanning environments, this can add up to 1.5 metric tonnes that each worker has to lift less per day. The combination of these and other factors explains why our products are being recommended by some 95% of the workers who use them."
Clothing retailer GAP is one of the companies to have experienced such benefits. Villafane reveals the company was seeing issues with operator discomfort, downtime from wired scanning devices, high admin and start-up time for production associates. "As they are the largest American specialty apparel company and process 100 million parcels a year in a very competitive environment, they needed to resolve these concerns," Villafane continues. "We helped them eliminate excess motion because of the form factor of our scanners. The lighter weight also provided more comfort for their operators. Ergonomics and ease of use reduced fatigue and improved quality. Aside from that, the intuitive interfaces enabled new associates to be productive sooner. And finally, by minimising focus on the tool, ProGlove scanners allow associates to concentrate more fully on their operational tasks."
Gettting to know you…

Before joining ProGlove, Carlos Villafane used to be, in how own words, a "little bit of a software-focused sales guy". But he reveals that the whole human-centric design approach that ProGlove pursues continues to be the right thing for him. "Even more so as we now transform to add software to our portfolio, and SOTI, one of my previous employers, is a very important partner for us. On a professional level, I am all about building and nurturing professional networks. Needless to say, I am committed to make things happen."

Asked to give a few fun facts about himself, Villafane admits he tends to blend in everywhere. "Maybe that is because of my multinational background: my 'mom' is Dutch, my old man is from Argentina, and I have found happiness in the UK. After all, that is where I live with my amazing wife and my three fabulous children. But still: travelling remains one of my favourite pastimes."
Overall, Villafane is excited about developments on the horizon for the warehouse – and that is why he is equally excited about showing off ProGlove's portfolio to IntraLogisteX visitors at the end of March. But, he says, for all of the furore surrounding IoT, automation and 4.0, he insists it is "paramount to understand that implementing technology for the sake of technology is nonsense".
If it sounds like a moon shot, it probably is one, he cautions.
"My advice is look for technology that is easy to implement, does not require irksome training programs and comes with a fast ROI," he suggests. In other words, you need to deliver immediate effects. "Potential often sits where you would least expect it. Take barcode scanning: if you save four seconds per scan and you run a warehouse with two shifts in which your hands on-site perform only 5,000 scans a shift, that means that you are saving 20,000 seconds per day. That equals roughly 5.6 hours per day. Not only does that allow you to increase your throughput, but it also lets you align processes better, which in turn accounts for more safety and reliability. Not to mention, it eliminates a significant portion of the stress that workers have to deal with."
As for automation, Villafane is equally circumspect when it comes to deployment for deployment's sake. "The pivotal question is where we need automation," he states. "When technology is deployed, it needs to make sense. In other words, it needs to deliver tangible results, and it most definitely needs to be affordable. Many of the public debates revolving around automation and AI have caused a counterproductive alienation. Technology versus the human worker as adversaries. We believe that it is time to bridge that gap and promote human machine collaboration. At the end of the day, technology needs to serve human needs."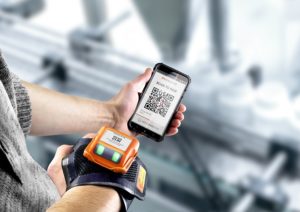 Villafane reveals that ProGlove is working with robotics and automation solutions provider Kuka and they themselves to not see a fully automated factory in the foreseeable future. "Even companies like Amazon do not see that happening any time soon," he notes. "Many studies suggest that when technology is being deployed it will generate even more need for human work. Work may and will change, but currently we need to focus on how to address concerns like worker shortages."
As items move along the supply chain, Villafane believes we will need technology to help them move more swiftly towards the human worker. "Wearable technology will play a crucial role in that scenario," he predicts. "Additionally, we think that the idea of cobots will gain ground, and we may also see exoskeletons become more commonplace. In short, technology will need to provide support so that workers onsite can master physically demanding jobs. But all of that calls for more human machine collaboration, because the human worker will remain indispensable for the foreseeable future. Digital warehouses can provide a very important playground upon which organisations can experiment with different scenarios."
ProGlove is exhibiting at IntraLogisteX on Stand 962. To register for the event, which takes place on 29th and 30th March 2022, at the CBS Arena in Coventry, please click here. More information about the UK's largest annual intralogistics event can be found at www.intralogistex.co.uk