Mencap, the charity supporting people with learning disabilities to access employment and other opportunities, is celebrating the success of its new employment programme in the Bristol area.
This has involved working with one of the city's biggest private employers, GXO, which employs more than 31,000 employees in the UK, and around 500 in Bristol with sites across the city and the West of England.
In Bristol, Mencap and GXO have joined forces to run a traineeship scheme for individuals with learning difficulties. This programme has led GXO to award four young people with autism their certificate of completion for their 16-week traineeship programme and jobs with GXO in the Bristol area at a ceremony which took place on Thursday 7th April. For three of these recruits, this will be their first ever permanent jobs. This is a huge milestone for each, and will allow them to move towards financial independence.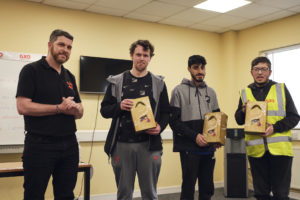 Speaking about his traineeship experience, new GXO recruit John said, "I have learned a lot from my traineeship with Mencap and GXO. I feel like it's built up my confidence and given me the skills I need to do the job really well. GXO has been so friendly and welcoming. I've now been offered a full-time role at GXO which I've accepted, and I'm really excited to get started!"
Another of the new hires, Damian, commented: "I like cleaning and wanted a job doing this. I was offered a work trial with GXO cleaning in the warehouse. I feel good about my job with GXO, I like it because I have support to learn my role, I do cleaning and I have learned to get the bus from my house. GXO has made me feel welcome. I feel happy.
This is not the first successful programme from GXO and Mencap. In September 2021, GXO hired three recruits following their Mencap traineeship in Rugby, and a further two people used the skills and confidence they developed during the programme to secure employment in another sector.
GXO and Mencap are looking to expand the scheme in the city and are seeking new candidates who are looking to start a career.