Mercedes Benz and MAN have both started testing electric trucks in day-to-day operations with customers.
Mercedes-Benz has started putting its eActros electric trucks out on the road with a group of fleet operators.
Ten vehicles in two variants, with gross weights of 18 or 25 tonnes, will be handed over in the next few weeks to customers, who will be testing their everyday feasibility and economic efficiency under real-life conditions.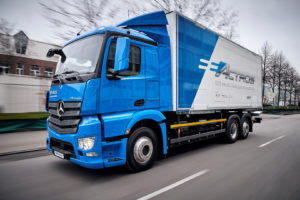 The maximum permissible axle load stands at the usual 11.5 tonnes. The energy for a range of up to 200 km is provided by two lithium-ion batteries with an output of 240 kWh.
Stefan Buchner, Head of Mercedes-Benz Trucks, said: "Initially the focus will be on inner-city goods transport and delivery services – the ranges required here are well within the scope of our Mercedes-Benz eActros."
The manufacturer showed a concept heavy-duty electric distribution truck for urban areas at the 2016 IAA show in Hanover.
The company said that a number of technical and business-related issues remain outstanding, key among them the range and cost of the batteries, but also the infrastructure required for their use as part of customers' commercial fleets.
Board member Martin Daum said: "We now want to work together with our customers to move swiftly forward with the development of our Mercedes-Benz eActros to the point where it becomes a viable proposition in tough everyday operations – both technically and commercially.
"We are beginning this process by creating an innovation fleet and will be supporting its testing in the day-to day logistics environment of our customers. This will enable us to establish just what remains to be done, in terms of technical matters, infrastructure and service, to make our Mercedes-Benz eActros competitive."
Participating in the fleet test are customers from a variety of sectors in Germany and Switzerland. They are: Dachser, Edeka, Hermes, Kraftverkehr Nagel, Ludwig Meyer, pfenning logistics, TBS Rhein-Neckar and Rigterink from Germany, and Camion Transport and Migros from Switzerland.
MAN has started working with the Austrian Council for Sustainable Logistics (CNL) to test its eTrucks in inner-city and suburban distribution operations.
CNL member companies are testing electrically-powered trucks for various purposes in daily service. Nine CNL partners are involved in the tests: Gebrüder Weiss, Hofer, Magna Steyr, METRO, Quehenberger, REWE, Schachinger, SPAR and Stiegl.
In signing the development partnership agreement, both MAN and CNL are kicking off the introduction of electric drives in medium and heavy distribution transport with a permitted gross weight of 12 to 26 tonnes.
MAN plans to go into production with electric versions of the TGM series from the end of 2018.
CNL plans to up its use of eTrucks for inner-city and suburban distribution transport from 2020 onwards to make an active contribution towards reducing emissions in cities.
"The partnership with CNL offers MAN the ideal opportunity to further develop existing technology for series production using the practical experiences of members in the consortium. It will also help us gear our new product portfolio to customers' requirements," said Dr Carsten Intra, a member of the MAN executive board who is responsible for research and development and for production and logistics.
Six by two chassis featuring refrigerated truck bodies, swap containers and drinks containers are in the pipeline. A semitrailer combination also forms part of the scope of testing.