Miniclipper Logistics has chosen Paragon's routing and scheduling software to manage a fleet of 40 trucks used to handle palletised freight and hazardous cargo.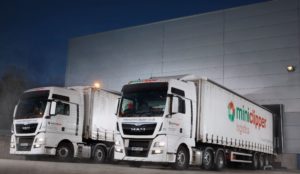 It has also adopted smarter mapping tools – street level mapping, average road speed data and truck attribute data – to create accurate routes and factor in anything that can impact on the reality of a plan such as one-way streets, low bridges and other road restrictions.
"The Paragon software is playing a crucial role in helping us to deliver on our service promise as well as providing visibility of any operational delays and potential areas of improvement. In particular, this has led to a reorganisation of our loading procedures and the implementation of an electronic scanning system within our warehouse network," said Mark Turner, general transport manager.