Mitsubishi Fuso has unveiled has unveiled the E-Fuso Vision One – an all-electric heavy duty truck concept with a range of up to 350km, which could be in production within four years.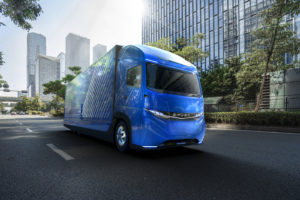 The company, which is part of Daimler Trucks, says it plans to electrify its complete range of trucks and buses over the coming years.
"Our E-Fuso Vision One is an outlook on a feasible all-electric heavy-duty truck," said Marc Llistosella, president and chief executive of Mitsubishi Fuso Truck and Bus Corporation and head of Daimler Trucks.
"Just one month ago we launched our eCanter, the first serial-produced, all-electric light duty truck. In the future, all our electrified vehicles will run under the name of E-Fuso, our new product brand dedicated exclusively to electric trucks and buses."
The E-Fuso Vision One has a gross vehicle weight of about 23 tons and carries a payload of 11 tons – two tons less than its diesel counterpart.
It can be fitted with batteries up to 300 kilowatt hours, thus enabling a range of up to 350 km on a single charge.
The company said that while the electrification of long-haul trucks will still need considerable time, a potential application for the Vision One heavy-duty truck is regional intra-city distribution. "A possible market entry for the series version of the E-Fuso Vision One could be feasible within four years in mature markets like Japan, Europe or the US."