Automation is making the warehouse a safer working environment; supply chains more efficient and providing customers with a better service, according to the MD of XPO Supply Chain the UK and Ireland.
Speaking to Logistics Manager at Robotics and Automation, which took place at the Ricoh Arena on 29 and 30 October Gavin Williams, MD UK and Ireland, supply chain, at XPO Logistics said: "Automation is taking out non-value-added tasks that warehouse operatives have fulfilled historically.
"[Automation] is making the environment safer, more efficient and with a better service and a better quality. It is taking low-level menial tasks out of people's jobs and allowing them to work harder on value-added activity," he said.
However, Williams stressed that XPO still needed people: "People are still the most important thing, but technology is becoming easier to deploy, because it is modular, and you can deploy in certain areas without doing massive automation projects. But certainly, more modular and more available technology sits there today than there ever has been."
Last month JD Sports selected XPO Logistics to optimise the UK supply chain for its GO Outdoors brand, integrating the distribution stock with other brands including Blacks, Millets and Ultimate Outdoors. In February it was awarded a multi-year contract renewal by Carlsberg UK for supply chain logistics in the UK.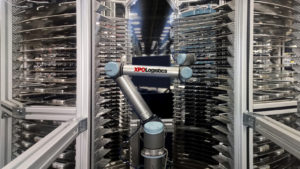 Speaking in general about supply chain contracts Williams said that there was consideration more than ever around the environment, particularly around reducing plastic.
"All customers are thinking about packaging and where they can take it out of their retail space. That puts a different pressure on supply chains because if you are taking packaging out, how you handle that product throughout the supply chain becomes more meaningful and important.
"Customers are speaking to us about the environment more than they ever have before. Understanding your environmental credentials and the things you have been doing in the space, be it investing in the very latest technology in your vehicle units, or how you are taking vehicles off the road, these things are typically associated with cost. Taking cost out and reducing your environmental impact are typically inline, so it has definitely become a major thing with tenders."
By Christopher Walton