The IntraLogisteX Exhibition has been branded a massive success with a big uplift in visitor numbers over last year.
The event got off to a strong start on the first day with exhibitors reporting a high level of enquiries and that was matched on the second day. IntraLogisteX has grown substantially since last year with more than 70 leading suppliers of logistics equipment and IT systems exhibiting at the show this year.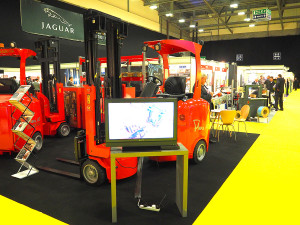 Snapfulfil unveiled its new web site and corporate identity. This comes after the company's launch of its new software editions, deployment methods and payment options. The cloud based warehouse management system is now available in three editions to suit a range of operational and commercial requirements.
Packaging specialist Antalis is showcasing its 'Emba TrayTech' machine at the exhibition. The machine is a package solution that provides a significant degree of automation for constantly changing types of products of between 0.01 – 150Kg, at a constant packaging speed.
Red Ledge is launching its launch warehouse management system tool 'Red Ledge CORE' at IntraLogisteX. The fast-build tool speeds the development of WMS and other logical event-driven systems using a set of standard libraries.
Renovotec is pre-launching two new services at IntraLogisteX. The rugged hardware provider is introducing 'Warehouse Doctor' – a free health check service that assesses warehouse technology and processes and could improve performance by up to 30 per cent. As well as this, it is pre-launching 'PartEx' – a rugged device trade-in service that in Q2 2016 will 'offer up to £200 trade-in per used handheld device against the price of its new equivalent.'
Packaging systems company Linkx, is showcasing size optimisation technologies designed to tackle excess packaging. Linkx's Box Sizer reduces the outer box of a package, bringing it down to the size of the product or goods being shipped – minimising the need for any additional packaging filler.
Warehouse management software company Indigo Software, is giving the industry a sneak preview of what to expect for warehouse operations in 2016. Indigo predicts that in 2016 there will be greater automation – and that the use of automation to improve efficiency will increase with a greater reliance on supply chain execution systems.
Click here for more images from IntraL0gisteX.
All set for next year:
The IntraLogisteX exhibition 2017 will take place at the Ricoh Arena in Coventry on 22nd and 23rd March 2017.