Morrisons has re-negotiated its contract with Ocado to lift the restrictions on store pick, cancel the profit share agreement and reduce the Research & Development fee.
The retailer said the new deal would enable Morrisons.com to grow profitably in the UK.
Ocado will develop a store pick solution for Morrisons.com. Prior restrictions will be lifted, enabling Morrisons to fulfil online orders via store pick anywhere in Britain, including all areas not currently covered by Morrisons.com.
Morrisons is expected to start the roll out of the store-pick solution in 2017. Ocado will license to Morrisons the store pick module from its Ocado Smart Platform, the software required to fulfil online orders from its stores.
The physical fulfilment process enabled by the store-pick solution will be operated by Morrisons, with Ocado providing and maintaining the software platform. Morrisons will pay for and operate the delivery fleet for OSP store-pick.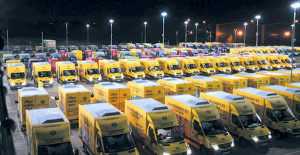 Once the store pick model becomes operational, Morrisons contractual obligation to share a proportion of its future online profits with Ocado will end. At this point the exclusivity restrictions on Ocado will also be reduced, although it will still be prohibited from serving certain grocery retailers including Tesco, Asda, Sainsbury's, Aldi and Lidl.
Morrisons will take capacity at Ocado's new customer fulfilment centre in Erith. It said this arrangement has significantly lower upfront capital costs than the original operating agreement and includes an option to break after five years.
Once Morrisons.com is operational from Erith, Morrisons will pay Ocado a reduced annual R&D fee.
Morrisons said these changes meant that the break-even point for Morrisons.com would be slightly later than originally planned when the business operated solely from the Dordon CFC.
"In future, we expect the annual Morrisons.com EBIT loss to continue to reduce each year and to be a key component of the £50m-£100m incremental profit opportunity we announced at our preliminary results in March 2016. Our capital expenditure guidance of c.£450m for 2016/17 and a sustainable range of £400m-£450m per annum in future years is unchanged."
Morrisons chief executive David Potts said: "The new investments in online growth are further examples of Morrisons building a broader business and will allow millions more customers all over Britain to enjoy Morrisons good quality fresh food and great value for money. As food maker and shopkeeper, we continue to 'follow the customer' and move towards achieving capital light, profitable growth online."