Marks & Spencer has snapped up Logicor's MK360 warehouse in Milton Keynes to service its food division.
In a statement yesterday the company said it would be looking to cut £500 million of costs, including £60 million in its clothing and home logistics functions, as it anticipates a 70% reduction in volume in some areas of its business due to the impact of lockdown.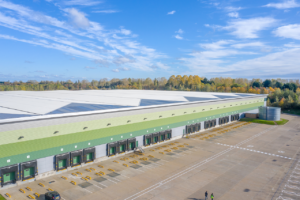 The company has taken the comprehensively refurbished 360,214 sq ft distribution unit on a 10-year lease.
MK360 has 12m clear eaves height and a 55m deep yard. It has 25 dock and one level access doors and parking for 65 HGVs with temperature controlled storage.
Anthony McCluskie, director of asset management at Logicor, said: "We have been working closely with Marks and Spencer and their agent Lambert Smith Hampton for a number of months and are thrilled to have concluded this letting together.
"Marks and Spencer is a new customer to our portfolio and we have enjoyed working with them to find the right building to suit their needs and to be involved with their changing supply chain strategy."
Logicor was advised by BNP Paribas Real Estate and Burbage Realty. Marks and Spencer plc was represented by Lambert Smith Hampton.