National Lorry Week starts on Monday and operators around the country are planning events to encourage the public to "love the lorry".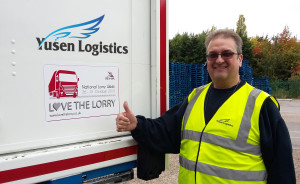 The event is organised by the Road Haulage Association and runs from 26th to 31st October, to highlight the economic and social impacts of issues such as the UK driver shortage, fuel duty and road maintenance.
Yusen Logistics is promoting the campaign via its web site and on social media. It will also be taking part in the Association's national "Love the Lorry" sticker competition.
Managing director Kevin Appleton said: "The road freight industry is extremely important to the UK economy, contributing over £70 billion per year. In addition to this, eighty per cent of UK freight is delivered by road. It is important that we raise awareness of just how crucial the industry is – not just to our economy, but to our everyday lives."
Other supporters include: Asda, Downton, Yearsley Logistics, Pallex, Scania, Great Bear and the Driver & Vehicle Standards Agency.
Gregory Distribution is planning a truck display in an Exeter shopping centre, while in Buxton a group of organisations, including Nestle, SK Distribution and Buxton and Leek College, have got together to support an open day at the Skillsbase Training Centre.
The M6 Toll is working with Eddie Stobart, Pentalver and Maritime Transport to stage an open day. Maritime is also holding tours of its operation at Felixstowe on the Tuesday.
Aberdeen Football Club's ground, Pittodrie, will host an open day with a number of companies including Panalpina, Colin Lawon Transport and Wm Walker Transport.
Launching the initiative, RHA chief executive Richard Burnett said: "National Lorry Week will provide us with an opportunity to reach out to the public and politicians as never before to highlight our massive and positive contribution to daily life." Hauliers across the UK will be opening their doors and inviting the public to:
* Get up close and personal with a lorry
* Meet operators/drivers to hear about the important role the road freight industry plays
* To find out how the industry keeps them supplied with all the things their lives depend upon
* Hear about careers in driving and other industry-related jobs
* Listen to what the industry is doing to reduce its impact on the environment.