Mercedes-Benz has launched the latest version of its Actros heavy truck which promises reduced fuel consumption through improved aerodynamics.
It also has cameras instead of side mirrors, enhanced predictive powertrain control, and a multimedia cockpit.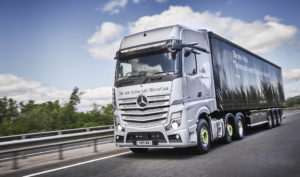 Enhancements to the predictive powertrain control, combined with improved aerodynamics mean that fuel consumption has been reduced by up to three per cent on motorways and up to five per cent on country roads compared to its predecessor.
As well as using GPS and mapping data to ensure the truck remains in the correct gear for optimum fuel economy on hilly motorways, enhanced PPC factors in the curvature of the road too, making it ideal for use on rural roads. The truck can now predict a safe speed for bends that a driver hasn't previously encountered, activating the exhaust brake to slow to that speed automatically.
The new MirrorCam system comprises two cameras directed rearwards, with images appearing on two displays mounted on the A-pillars inside the cab. Trailer-panning technology ensures that the trailer always remains in the centre of the screen, even during tighter turns.
A new multimedia cockpit includes Apple CarPlay and Android Auto, and the conventional instrument cluster has been replaced with a customisable primary display, which shows all the assistance systems and the optional new traffic sign detection function.