Goodman is building a 12,500 sq m logistics centre for Amazon on a 38,000 sq m site in the Bremen freight village, with a multi-storey car park for 277 delivery vans.
Bernd Gschaider, director of Amazon Logistics in Germany, said: "We are very pleased to open a distribution centre in Bremen. More than 20 years of logistical competence, technological progress and investment in transport infrastructure have gone into this building. This enables Amazon to offer customers faster and more flexible delivery options."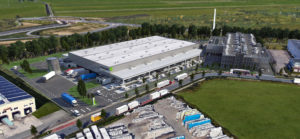 In the first phase, Amazon will create about 130 jobs, however eventually more than 400 drivers will be responsible for delivering parcels to customers.
In addition to the logistics centre, Goodman is building a multi-storey car park for 277 of Amazon's own delivery vans, this will offer faster access to the company's fleet for more efficient last mile delivery. The building will include 1,200 sqm of office mezzanine and a 3,700 sqm canopy.
Construction completion is scheduled for autumn 2019.