AF Blakemore has started to roll out a new livery on its distribution fleet as part of its "One Logistics" project which is designed to optimise fleet efficiencies and warehouse operations across the group.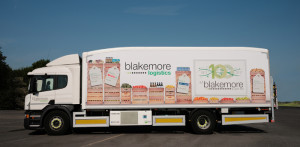 The new livery will standardise branding across the group's logistics operations and will be rolled out across all new SPAR, Foodservice, Fine Foods, Wholesale and Wholesale Distribution vehicles.
Group logistics director Andy Grinsell said: "This rollout of new livery across multiple AF Blakemore divisions reflects a more consistent and aligned approach to the way we do business across our logistics operation.
"This is all part of a wider 'One Logistics' project currently being undertaken by the company that is working towards optimising fleet efficiencies and warehouse operations across the group.
"With a fleet of more than 300 vehicles travelling the length and breadth of the UK every day, this new livery is a great opportunity to promote the Blakemore brand and our company values as well as a very effective means of advertising for our suppliers."
The company will, for the first time, be offering suppliers the chance to purchase advertising space on its trailers in conjunction with AF Blakemore's new Local Marketing Partners scheme.
Over the course of the next six months, the new livery will be trialled across 40 vehicles, and then a rebranding programme will be rolled out to the wider fleet over the course of the next two years. The new design will be applied to vehicles of all sizes, from vans to double-deck trailers.
As part of the company's new approach to consistent branding across the logistics operation, the rollout of a new uniform for company drivers will also start within three months, followed by a new uniform for warehouse staff at a later date.
AF Blakemore employs more than 8,100 people and has a turnover of £1.31 billion. As well wholesale, distribution and shop fitting operations, the company is the largest division of SPAR UK, owning 300 SPAR stores and serving more than 1,000 in total across England and Wales. The company is also the largest member of the Landmark Wholesale group and a significant supplier to the independent grocery sector across the UK.