DX has opened an expanded operating centre in Claydon Industrial Park, Ipswich, replacing a smaller, existing location in  group's Express division.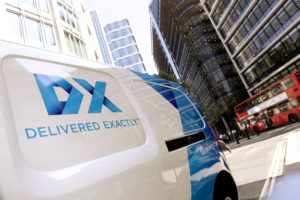 Its freight division, which handles irregular dimension and weight (IDW), had already opened a new depot in the area in January and DX said the expansion was part of its programme of continued capital investment in its Express division, a commitment which saw it roll-out new handheld devices for its couriers last week.
Chief executive Lloyd Dunn said it would continue to make selective investment in technology and sites in order to "drive the next phase of DX's development".
In regards to the Ipswich site, DX said the move to larger premises would increase the Express division's collection and delivery capability in the region. It has not revealed any details about the size of the site.
DX EXpress MD Martin Illidge said: "We are delighted to be opening a new, expanded operating centre in Ipswich. It will enable us to improve our secure, tracked and express services for existing customers in the area and provides us with a platform for further growth.
"Our facilities management and operational team members have done a great job in completing the move to larger premises while observing the necessary health and safety requirements, which are even more of a priority for us all currently."