Narrow Aisle is now offering the same factory warranty terms for its remanufactured Flexi ECO AC trucks as for new-built units.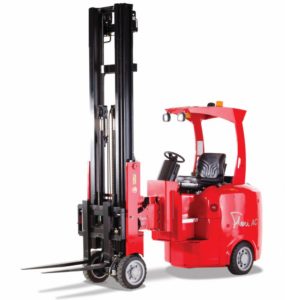 Managing director John Maguire said: "Our Flexi ECO AC trucks come with an identical warranty to an equivalent all-new model but cost some 30 per cent less. 'Second life' Flexis are proving a particularly popular option for users who acquire materials handling equipment on contract hire packages where all repair and maintenance costs are included in the fixed term, monthly charge."
Trucks selected to undergo the ECO AC 'makeover' process are stripped down. All the original major direct components are graded and either disposed of or reworked for onward sale to the service exchange spare parts market.
Once passed fit for re-use, the cast and steel body parts are cleaned and finished before joining the Flexi production line, where all-new componentry – including pumps, motors, all hydraulic parts and the latest Zapi AC motor technology – is introduced.
"Our trucks are built with heavy gauge steel plate, 'I-beams' and four cast counterweights," said Maguire. "This means that even after 10 years of hard use the heavy chassis components are able to be reconditioned to the latest specification. This process saves a great deal of primary and secondary manufacturing costs, which, in turn, dramatically cuts the amount of CO² generated during the total manufacturing process."