NFT Distribution has taken over NR Evans (Holdings) the Carmarthenshire-based temperature controlled distribution specialist, in a deal valuing the business at some £20 million.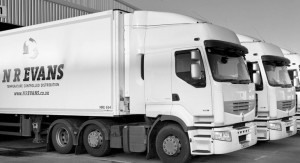 NFT says the acquisition strengthens its service offering in a number of rapidly developing areas including chill, ambient & milk FMCG supply chain and takes the total number of strategically located UK distribution centres to 17, following the addition of the 9 facilities operated by the NR Evans business.
David Frankish, CEO of NFT, said: "We believe that the combination will not only create a considerable increase in scale, reach, and infrastructure, but also – combined with the capability of our people, recently augmented by the recruitment of new Board Members with specialist skills – results in the emergence of NFT as a business with an increased international focus on grocery supply chains."
The deal is the third acquisition in the UK logistics market during the last 12 months by Hong Kong-based private equity investor EmergeVest, which owns NFT.
Heath Zarin, managing director of EmergeVest, added: "We believe that the acquisition of the NR Evans Group, combined with the recent commencement of operations at NFT's game changing port centric London warehousing facility and the opening of NFT's international office in Shanghai, means that the Group is well positioned to expand its service offering within the UK and to enter new overseas markets. We are very excited about NFT's domestic and international growth prospects and ability to provide an ever-expanding suite of leading edge services. This acquisition will not be our last and demonstrates EmergeVest's confidence in the UK market as an investment proposition post Brexit." he said.
Neil Evans, founder of NR Evans said: "Having developed the NR Evans brand over a number of years I am extremely proud of what we have created, and I believe strongly in the potential of the combined NFT Group, and in our people who deliver service excellence day in day out to our customers. In NFT we have found a like-minded business that places the customer at the heart of what we do."
The transaction includes integrated debt funding of up to £13 million provided by Investec Growth & Acquisition Finance.