Nike has unveiled the latest expansion of its European Logistics Campus at Laakdal, some 45 miles east of Brussels in Belgium.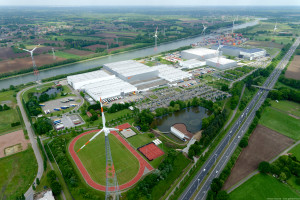 The company employs about 3,000 people at the site, and said the expansion would make its European operations more efficient, responsive and sustainable, enabling growth by serving consumers across Nike.com, Nike retail and wholesale partners in 38 countries, from a single inventory location.
"Globally, we ship more than one billion units of footwear, apparel and equipment every year, which demands an agile, innovative and sustainable supply chain," said Eric Sprunk, chief operating officer of Nike Inc.
Bert Stevens, vice president of supply chain operations at Nike Europe, said: "Our facilities in Belgium are a pinnacle example of how sustainable innovation is embedded into Nike's growth strategy, which enables us to maximise our performance while minimizing our footprint."
The facility is fed by an infrastructure of canals, railways and highways. Some 99 per cent of inbound containers reach the local container park, by water, not road, saving 14,000 truck journeys a year
The warehouse is a rack-supported building, reducing waste and material used, thereby minimising its footprint.
The campus uses 100 per cent renewable energy, and sources energy from five locally generated sources: wind, solar, geothermal, hydroelectric and biomass. Six 150m high wind turbines on-site produce enough electricity to power 5,000 households, and the on-site solar panels cover the size of three football fields.